Wall street raider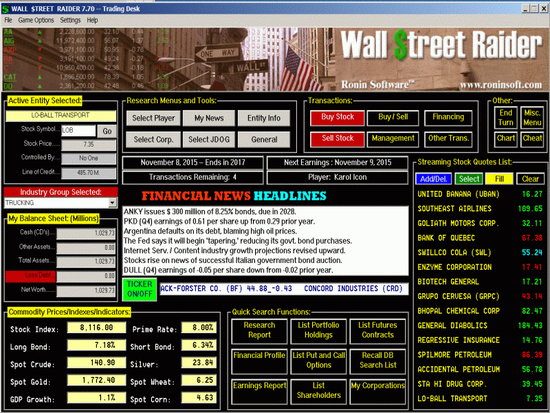 Download URL | Author URL | Software URL | Buy Now ($21.95)
Wall Street Raider -- the ultimate in sophisticated financial simulations, a corporate takeover and stock market game and simulation, in which you strive to build your corporate empire by fair means or foul, all the while trying to stay one step ahead of the SEC, IRS, Justice Department, EPA, Congress, powerful unions and no end of ruthless competitors and dealing with difficult ethical choices -- not to mention various manmade and natural economic and other disasters. In this highly realistic simulation, 1 to 5 players (including the computer) compete to amass fortunes, investing in, or taking over and managing, any of up to 1590 companies in 70 industry groups. Once in control of a company, you'll use all the tricks of the trade of real Wall Street corporate raiders to expand your empire and net worth, including hostile takeovers, greenmail, LBOs, IPOs, junk bond financing, mergers, restructurings, dominating your industry, antitrust and other lawsuits to harass competitors, o
Related software (5)

Free turn based wargame covering Operation Typhoon in late 1941. Replay the German unsuccessfull attempt to capture Moscow, followed by the Russian counter-offensive that denied th ...

Forex Automoney everyone has the opportunity to profit every day! Our system works in all countries of the world. Absolutely everywhere! Also you can be an absolute newbie to use o ...

Forex Torpedo is the best forex robot in the history. It will definitely not work for you if you don't take action. Read more why do I say so. The Forex market is by far the most p ...

10 Minute Forex Wealth Builder: Here's Just A Very Small Taste Of What You Will Discover Inside The 10MFWB! 2 simple-yet-powerful methods of trading the forex market with only 10 ...

MagicBreakout Trading Strategy Cut losses and let profits run - this is the way how trade the professionals. Letting your profits run is the only way you can cover the cost of your ...