Vshell server for windows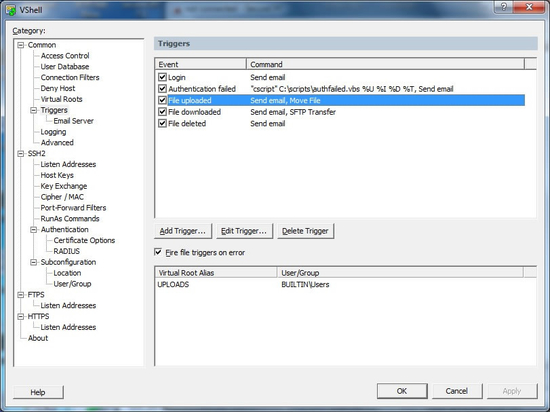 Download URL | Author URL | Software URL | Buy Now ($249)
VShell Secure Shell (SSH) server for Windows, Mac, and UNIX is a secure alternative to Telnet and FTP that gives you the strong encryption, trusted authentication, and data integrity you need to securely access network resources and transfer data. VShell is simple to install and set up, enabling you to quickly deploy and fine tune your server environment. Provide secure remote access to the network for IT and end users and securely configure and maintain servers and network services with confidence. Secure file transfer services include SFTP and SCP as well as secure FTP over TLS (FTPS). VShell's extensive configuration options and trusted authentication methods give you the right balance between protecting your network and providing your employees and customers with access to the data they need. Using fine-tuned configuration options like access control lists (ACLs) and virtual directory structures, enforce your security policy by placing safeguards on all personnel who have acce
Related software (5)

Set up a VPN server in less than 1 minute. Free client software. iPig creates a secure "tunnel" that protects your inbound and outbound communications (Email, Web, IM, VOIP, calls, ...

Kremlin provides a cross-platform security suite for Mac and PC, protecting your sensitive information from intruders. It features RC4 and Blowfish encryption, secure deletion of f ...

SecureBlackbox.NET is a comprehensive component collection that adds SFTP, FTPS, SSH, PGP, PDF, XML security, S/MIME, SSL/TLS, HTTPS, PKI, ZIP, EDI, Cloud, WebDAV, SAML, Office sec ...

FTPshell Server is a Secure FTP Server and SSH2 Secure Shell Server available in a single software package. It supports file transfer and shell access using FTP, FTPS, SFTP, Telnet ...

Scanner of shared resources. Advanced tcp/udp terminal. Free and fully portable.