Verge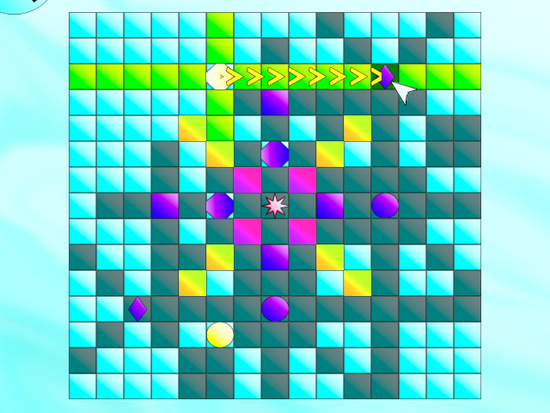 Download URL | Author URL | Software URL | Buy Now ($0)
Verge is a simple puzzle game featuring 30 levels. The goal is to hold the Red Star's shape by avoiding or destroying hostile purple shapes in its path. Each level requires a certain task, where you have to calculate your steps on the way to the goal. In the first step you have to place the shapes on the playing field, and then bring the plan into action.

Destroy hostile figures, and change the position of the obstacles as you need to sacrifice one for its figures, and those use it to achieve your goal!

How to play:
1) First you need to choose the type of shape that you want to put on the green cell on the playing field. Shapes to the right of the image shows how much is left of this type of figure.
2) Once all the pieces are placed, you need to press the triangle to start the game. To restart the level, press the button with the curved arrow.
3) To select the shape that you want to move, click on it the left mouse button. Then the cells into which you can put this figure will ligh
Related software (5)

Continuation of the first part of Dead Void. When you reached the city, you need to wait for help. How long you can last in a huge city, fully inhabited with zombies? At your dispo ...

Mini Hockey Stars A simple, yet intense game. Mini Hockey Stars is a fun, exciting arcade-style game that anyone can enjoy! Play with your friends. Play against random players from ...

In the world there is only one true God that you currently know. You created man to master the land, and live in great happiness. But it turned out that in this world there were al ...

An interesting and unusual way to shoot at bottles. This game does not require lightning reaction or incredible precision, as all of the bottles are remain in place. Just hitting t ...

Sure to be appreciated by anyone who likes Jigsaw puzzles, this game features four difficulty levels, the ability for pieces to be rotated (or not), awesome visual effects and soun ...