Utm coordinate converter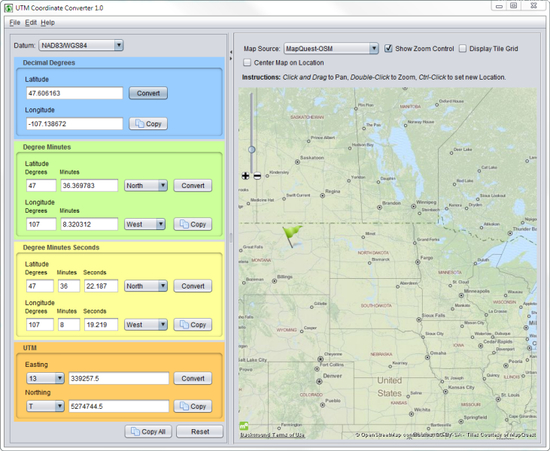 Download URL | Author URL | Software URL | Buy Now ($0)
UTM Coordinate Converter, converts between various geographic coordinate systems, allowing you to convert between various Latitude/Longitudes systems and the Universal Transverse Mercator (UTM) system. It includes a map that displays the location you converter, as well the map allows to select a location you would like converted (see Features for more details).

The converter supports converting between locations in Decimal Degrees, Degree Minutes, Degree Minutes Seconds and UTM. The following UTM Datums are supported: NAD83/WGS84, GRS80, WGS72, NAD27, GDA94, AGD84, ED50, OSGB36, Krasovsky 1940 and Everest 1830.

UTM Coordinate Converter uses OpenStreetMaps, and supports Mapnik, OSM Cycle Map, Bing Aerial Maps, MapQuest-OSM, and MapQuest Open Aerial
Related software (5)

UTM Coordinate Converter is an application that can convert between various Geographic Coordinate Systems, include Latitude/Longitude and UTM. The conversion results are displayed ...

Map Suite WPF Desktop Edition takes GIS and spatial application development for the Windows desktop to a whole new level, with a .NET-native control that packs the full power of Wi ...

A user-friendly software utility that enables users to effortlessly create custom maps based on Google Maps. It allows you to overlay various types of objects on the map, such as r ...

Map Suite Silverlight Edition is a full-featureGIS control that enables .NET developers to add interactive maps to their Silverlight applications. It is a true .NET native componen ...

Symbol Character Map, enables you to select the font, view available characters and symbols, copy a selection's to your favorite text editor. Simply double-click the characters for ...