Usergate proxy & firewall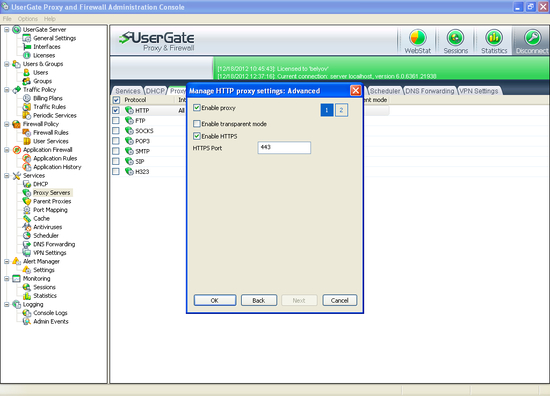 Download URL | Author URL | Software URL | Buy Now ($194)
UserGate Proxy & Firewall is a UTM (Unified Threat Management) class solution for sharing and monitoring employees' access to the local and Internet resources, for filtering FTP and HTTP traffic, as well as for administrating the network in your Company. UserGate provides complex LAN security due to three integrated antivirus modules - Kaspersky Lab, Avira and Panda Security. These modules control all types of network traffic including mail, HTTP and FTP traffic. In addition to antivirus modules UserGate is fitted out with a built-in firewall, which provides reliable LAN protection against hacker attacks by Intrusion Prevention System (IDPS). The solution has a full-rate VPN server with a possibility of creation tunnel 'erver-server', routing between subnets and VPN connections support. The integrated Entensys URL Filtering 2.0 module can deny access to undesired websites, both separately and by categories. Moreover, UserGate controls applications installed on clients' PCs, allowing or
Related software (5)
- all-round internet monitoring; - incoming traffic, time and bandwidth control; - access control to web sites, by protocols, time, queries, words, etc.; - flexible and powerful co ...

Eye4Software Coordinate Calculator is a very easy to use tool to perform gps coordinate conversions. Supported projections: Transverse Mercator, Lambert Conformal Conic, UTM, Gauss ...

- Detailed monitoring and reporting; - Flexible internet access control; - URL content filtering;

UTM Coordinate Converter is an application that can convert between various Geographic Coordinate Systems, include Latitude/Longitude and UTM. The conversion results are displayed ...

GPS Utility is an easy-to-use application that allows you to manage, manipulate and map your GPS information.