Typograf font manager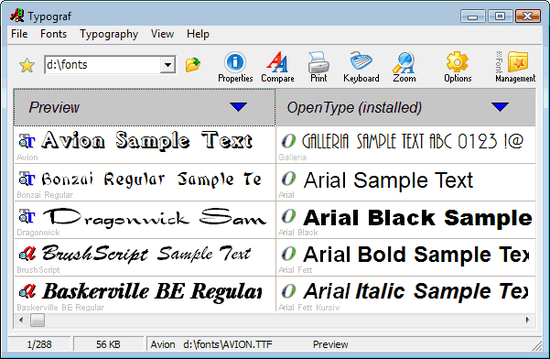 Download URL | Author URL | Software URL | Buy Now ($35)
Typograf is a top rate font manager for Windows that seems to be designed with the professional in mind. This program offers deep features and a clean interface that is well suited for graphic designers and other professionals who need to keep their fonts in order. However, the interface is simple enough that anyone with an interest in typography can use it. The program can store several different font types: OpenType, TrueType, PostScript Type 1 and even printer fonts. This program contains a wide array of information on your given font, including file name, font name, font file size, and copyright information. In addition, some of these fields are editable, allowing you to change, for example, the name of a font, or its copyright information. If you have a particular font type that you are looking for, the program allows you to search through your database for fonts of particular qualities, such as searching by serif or spacing. Typograf has a useful Compare feature, which allows you
Related software (5)

Virtual Font Folder synchronizes your installed fonts with the contents of another folder or network share. This makes it easy to make sure that a font is installed or uninstalled ...

Print bar code 3/9 from Windows using TrueType or PostScript fonts. Includes human readable versions of barcode 3/9 with text on the top or bottom. Visual Basic functions for Excel ...

Font manager: allows you to preview and manage both installed and uninstalled typefaces and examine your system for font errors. You can display the list of installed font faces, c ...

With Typograf, users can manage TrueType, OpenType, and PostScript Type 1 fonts on an individual PC or network PC. Typograf allows users to display all meta data for a font file, v ...

CrossFont converts TrueType and PostScript Type1 fonts between Macintosh and PC platforms. Converts Type 1 to OpenType. Features: Zip srchive support, font preview, drag and drop, ...