Testmachine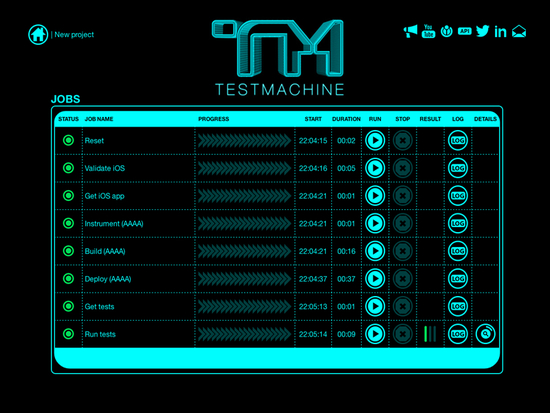 Download URL | Author URL | Software URL | Buy Now ($0)
The TestMachine Mobile Testing Tools is a GUI test development and execution framework for mobile apps. It allows you to develop and execute tests in a controlled environment.

Reproducible test runs:
The TM creates the same initial state for every test run, by preparing the app and the test environment automatically. Thus test runs become reproducible.

Uniform test API:
The same clean, XML based GUI interface is available for both iOS and Android. Test code can be shared between the two platform.

No capture & replay:
Tests are coded in Java, not generated. A flexible programming language is at your command to freely combine stable building blocks to sophisticated test procedures.

Multiple devices:
The TM makes it very easy to distribute test execution to many devices, or use multiple devices in the same test. No intricate batch scripts are required.

Full access to iOS devices:
When used in conjunction with the iPhoneDriver 'tweak', the TM can drive every iOS app, including syst
Related software (5)

Squeeze Whiz Page Builder from the Freshwater Aquarium Source. Introducing the easiest and fastest way to generate professional looking squeeze pages for higher conversion rates. T ...

Professional Squeeze Page Generator App by Wall Mount Aquarium. This easy to use software is fastest & easiest way to generate professional looking squeeze pages. Increase your aff ...

LSACreator is the simple but powerful .NET localization tool and the fastest solution for localizing .NET applications and ASP.NET websites without need to use Visual Studio. LSACr ...

HTMtied instantly converts any Internet address (link, URL) to a very small HTML file that when opened in any browser, it will automatically load that address. Use it when you want ...

SecureBlackbox for Java is a comprehensive class library that adds SFTP, FTPS, SSH, PGP, PDF, XML security, S/MIME, SSL/TLS, HTTPS, PKI, ZIP, EDI, Cloud, WebDAV, SAML, Office secur ...