Tank rush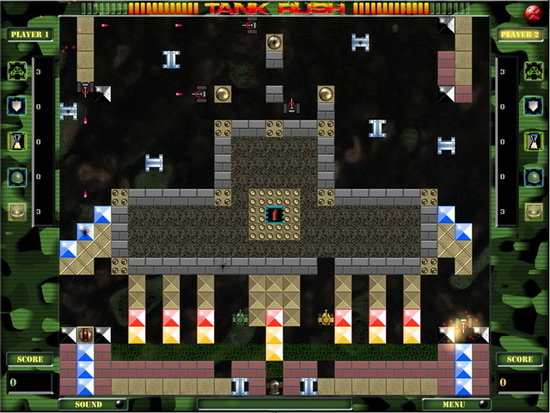 Download URL | Author URL | Software URL | Buy Now ($0)
Your mission is to protect your tank and the base from the enemy tanks by destroying all enemy tanks. Player starts the game with 3 lives. If the base or the player's tank is destroyed, the game ends and the player returns to the main menu. The number and diversity of enemy tanks increases based on difficulty level. If (easy) is chosen, enemy tanks move more randomly. When the players hit each other's tank, movement is temporarily frozen. After successful completion of the mission, another map is loaded and the game continues. Remaining lives are carried to the next level. Other capabilities of the tank are reset. When any 10 cards are passed, the player will get a little surprise! You'll get access to a new level named "Crazy." To beat this level, you'll need to crash all impenetrable blocks while the enemy appears from every direction. All bonuses earned by the player are retained when advancing to the next map.

* Load maps created by special map editor "Map Creator for Tank Rus
Related software (5)

Continuation of the first part of Dead Void. When you reached the city, you need to wait for help. How long you can last in a huge city, fully inhabited with zombies? At your dispo ...

Mini Hockey Stars A simple, yet intense game. Mini Hockey Stars is a fun, exciting arcade-style game that anyone can enjoy! Play with your friends. Play against random players from ...

Verge is a simple puzzle game featuring 30 levels. The goal is to hold the Red Star's shape by avoiding or destroying hostile purple shapes in its path. Each level requires a certa ...

In the world there is only one true God that you currently know. You created man to master the land, and live in great happiness. But it turned out that in this world there were al ...

In 2034 a group of scientists are trying to resurrect a mummy in Egypt. They succeeded, but they're starting to wish they hadn't. And here comes an elite unit of G-4 soldiers! Sinc ...