Symmetries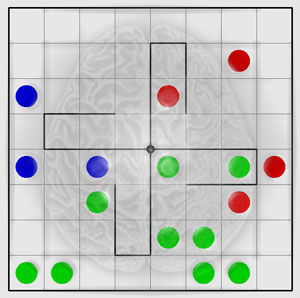 Download URL | Author URL | Software URL | Buy Now ($17.95)
Amazingly enough, a very different new board game was still possible.

Symmetries includes 2 options or sub games.

The program places at random checkers of few different types in the cells of a grided board. The shape of the board may be chosen from three types: a square, a triangle or an hexagon. The density of the grid can also be chosen.

In the case of a square, four axes that start at the center of the board have to be lengthened. The player only needs to lengthen one of them. The other three draw themselves automatically in a centrally symmetric way. The path they follow will hardly ever be a straight line but a winding polygonal trajectory. Once the axes reach the edge, the square is divided into four symmetric zones.
The goal of the game is to draw the axes in a way that, either all the checkers of the same color are put into the same zone (sub game 1) , or, contrarily, the same type of checkers are separated into different zones (sub game 2).

Symmetries is a very complete
Related software (5)

Build a pipe by connecting pipe pieces to each other before the water spills out. Quite easy yet attractive game that soon becomes your favorite way to spend spare time. Even scept ...

Match colors while connecting shapes in this beautiful and challenging puzzle game. Drifting through space with the stars as your backdrop, you must advance through increasingly di ...

Pyramid is a puzzle game of logic and math, with a bit of chance thrown in for fun. Remove the tiles from the board by matching the highest total combinations that are a multiple o ...

A fun and unique Tetris game with 8 puzzle pieces. All the standard ones are included and even some different designed ones. Each level the game will speed up and throw you a lar ...

free style fantasy mahjongg! The goal of the game is to eliminate all tiles on the board by matching pairs of free tiles.