Super grocery shopper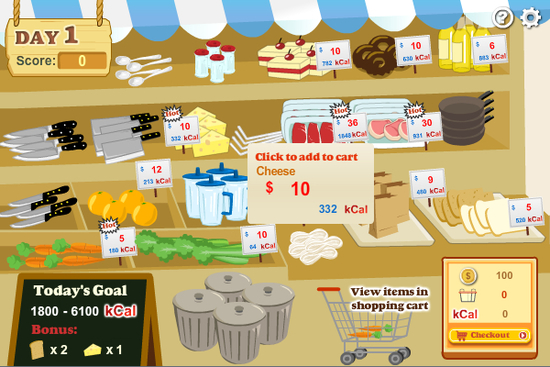 Download URL | Author URL | Software URL | Buy Now ($0)
Let's stand against inflation and unhealthy diet! Being a grocery shopper, your goal in the game is to spend as little money as possible while maintaining a balanced diet in the whole week. Each day you will be given a certain budget to purchase food ingredients in order to fulfill the calorie goal of that day. When the game starts, you will receive $100, and you can click to choose a desired food item so that it can be moved to your shopping cart. You can click the shopping cart at the bottom of the screen to view the content page of your shopping cart, which is divided into two parts. The current items in your cart will be displayed at the top, and you may click to remove any unwanted item. A food pyramid will be displayed at the bottom, which shows the current number of items belonging to each of the four food groups, namely Sugar and Fat, Meat/Fish/Milk/Dairy, Vegetables/Fruits, and Grains/Cereals from the top to the bottom. You need to choose the food items carefully according to
Related software (5)

Personal Data Pro is a complete, user-friendly, and intuitive Personal Data Manager for everyday people wanting to manage everyday things. It could literally replace 54 different ...

A comprehsive personal information manager useful in a wide range of settings. From everyday health information, emergency situations and doctor visits. Ability to scan in document ...

Hand Immersion Blender: Looking for the best hand blender for sale from the best brands Braun, Cuisinart, Kitchenaid and Breville. Amazon.com, ebay.com, buy.com - best and special ...

If your website does not have a shop, Database to Shop lets you easily create one for it. D2S is easy to use, no programming is required and a third party server(PayPal) processes ...

Award-winning cyberkitchen recipe and nutrition software for Windows 10/8/7/Vista/XP. Cuts hours off organizing recipes, meal plans, nutrition analysis, shopping lists, grocery cos ...