Sudoku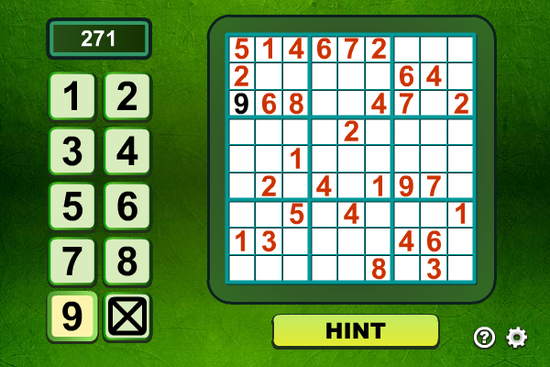 Download URL | Author URL | Software URL | Buy Now ($0)
Even if you have never played a game of Sudoku, you must have heard about its irresistible fun. Why not try it yourself online and treat yourself with excellent logical training? In this game, your goal is to fill in the blanks with numbers 1 to 9 such that the numbers will not be repeated in each row, each column, and each 3x3 square. You will be given a 9x9 grid, which is evenly divided into 9 squares. Some of the blocks are already filled by numbers, while the others are blank. A number pad is placed on the left of the grid, and you may click a number to fill a blank on the grid. Only a valid number which does not violate the rules of the game can be placed. If you would like to remove a number previously put onto the grid, you may click the cross button at the bottom of the number pad to erase it. If you are not able to put a number, you may click the Hint button under the grid to reveal one of the answers. However, each hint provided will add 50 seconds to the time you have spent,
Related software (5)

Who will become the ultimate sudoku master?

Put numbers into the randomly formed groups.

Conquer the overlapping regions in this exciting puzzle!

Solve the mystery of the letter X!
Fill in the blanks according to the given ordinal relations.