Studymaster5ooo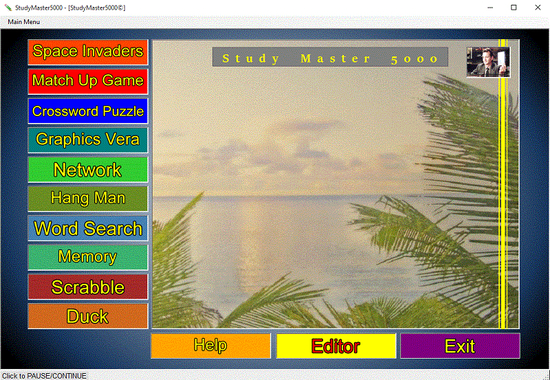 Download URL | Author URL | Software URL | Buy Now ($0)
To use this program, you will create your own word lists, and go over them periodically. Eventually, you will see that you know some of the words that you studied previously. Then you will create more word lists, and keep on learning them. This program makes it fun and easy to review grammar and other vocabulary in your free time. It is a study aid, and you will see that it is helpful. The point is that you are going to go over key vocabulary. And that is the idea with learning.
You would keep the program on your computer and check on it when you have time. I guess it's possible to go without it, but here is a way to make it more interesting. You can study different aspect of grammar, or vocabulary. It is in fact possible to study declensions, and conjugations, in various Romance languages. These are English, Spanish, German, Italian, or French. To do that you would put in the information that you think is critical to be studied, right in the definition. And you will get an exposure
Related software (5)

A full 3D attractive and colorful word puzzle game in three languages: French, English and Spanish with 180 levels of game with element of strategy and optional sound effects, musi ...

Are you trying to learn foreign language, but never have enough time? Get BPanel a tool that displays words and phrases you are trying to learn and their translation. Learn foreig ...

Vocabulary Wizard was designed for you who prepare for English vocabulary-related examinations such as SAT, GRE, ACT, TOEFL and so on. It gives you an efficient,fast and easy way t ...

Selingua is a vocabulary training program with extensive built-in dictionaries -- more than 2000 words in each of the following languages: English (both American and British), Germ ...

Multilingual dictionary. Translates words between German English Spanish and French. Provides synonyms (thesaurus) for all these languages, dict.blueseal.eu