Stillmotion pe-ii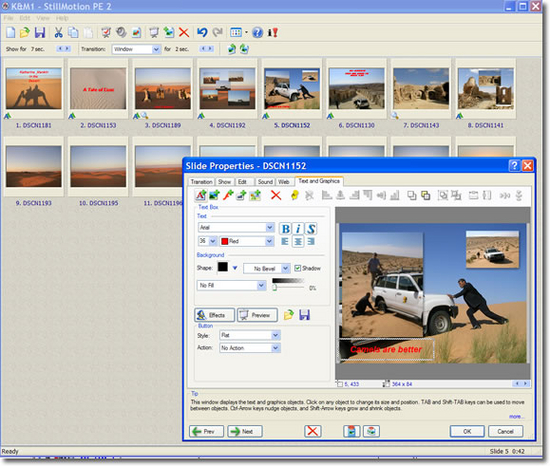 Download URL | Author URL | Software URL | Buy Now ($29.95)
Downloaders Special Offer Save 50%. New Pan and Zoom effects. Creates multimedia slideshows from digital images. Easy and powerful. Add sound, titles, labels, transitions, publish to YouTube, pan, zoom, create skins, animated text, composite images, hot spots, graphics, text, symbols with animation and effects.

PE-II makes sharing and showing off your photos a snap. Load your pictures in a folder and simply tell StillMotion PE-II to create a slide show. Select Publish and you're done.


Personal and Professional Applications

Create virtual tours and exciting multimedia with PE-II. See the demos on the web site.

Just one click to Publish to do all this:

" Create a slide show to view on your PC
" Create video for DVDs
" Create a video formatted for optimum YouTube use
" Create a screen saver that you can e-mail that will install itself
" Generate a web page
" Output a Flash (SWF) with user controls

EASY

PE-II can quickly import your images into a slide sorter display.
Related software (5)

Scarlett Johansson Free Screensaver. Photos slideshow. Scarlett Johansson (born November 22, 1984) is an American actress.

Shannen Doherty Free Screensaver. Photos slideshow. Shannen Maria Doherty (born April 12, 1971 in Memphis, Tennessee) is an American film actress. Charmed. Doherty's first major m ...

Sharon Stone Free Screensaver. Photos slideshow. Sharon Vonne Stone (born March 10, 1958) is an Academy Award nominated, Golden Globe and Emmy winning American actress, producer, ...

Tiffani Amber Thiessen Free Screensaver. Photos slideshow. Tiffani-Amber Thiessen (born January 23, 1974 in Long Beach, California) is an American television and film actress. Sh ...

Zoe Saldana Free Screensaver. Photos slideshow. Zoe Yanira Zaldana Nazario (born June 19, 1978), better known as Zoe Saldana, is a American actress. She was born in New Jersey t ...