Sterjo fast ip scanner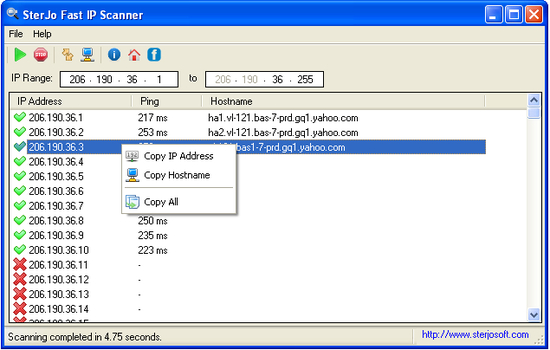 Download URL | Author URL | Software URL
SterJo Fast IP Scanner could be one of the world's fastest IP scanner available for free. This tool could ping any IP range with an incredible speed and get a response if the IP addresses are available.

Currently the software is capable to scan over 1000 IP addresses in less than 30 seconds. If this sound to you like an exaggeration, then download and try this free IP scanner to convince yourself.
Related software (5)

Free Web Link Submitter is a freeware program to POST submit your data. The program includes simple database that allows you to submit your web site to the Internet's biggest searc ...

NetInfo is a collection of 15 different state-of-the-art network diagnostic tools on a single, easy-to-use interface that allows you to isolate faults, simplify processing of diagn ...

Advanced Port Scanner is a fast and free port scanner allowing you to quickly find open ports on network computers and retrieve versions of programs running on the detected ports. ...

Network Ferret is built to scan networks. Rather than focus on complex user tweaks we focus on solid detection, connection and control of devices keeping the under the hood details ...
SterJo Wireless Network Scanner will find all devices connected to your wireless network in a few seconds.