Spt correlations software - novospt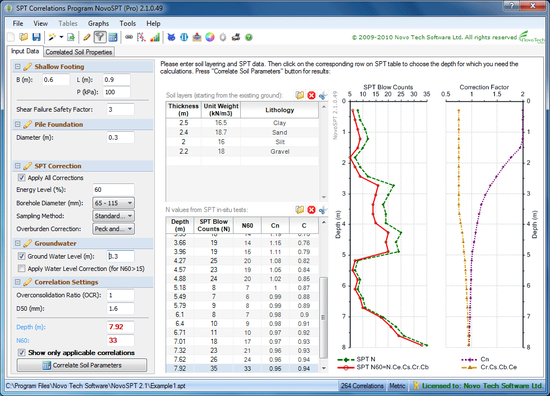 Download URL | Author URL | Software URL | Buy Now ($350)
NovoSPT is designed for analyzing Standard Penetration Test (SPT/DCPT) blow counts and estimating soil engineering properties using about 300 correlations. The following features are incorporated:

- All correction factors including rod length, sampling method and borehole diameter, depth, correction for ground water table
- Bearing capacity and settlement
- Wildcat & DCP penetrometer conversion
- Classification of soil layers
- Estimation of various soil properties (more than 25) including Phi, Su, Vs, Es, Gmax, Dr, etc.
- Correlation with depth of borehole
- Powerful reporting and printing features
- Importing SPT data and soil layers data from text files (*.txt) and from gINT files
- Exporting all tables and graphs to Excel and image formats

visit http://www.novotechsoftware.com/spt/ for more information. Download FREE trial version and explore how NovoSPT helps you through your geotechnical projects. Novo Tech offers excellent support.

Also available for iPhone and iPad: http://
Related software (5)

Peysanj is a series of geotechnical engineering modules such as bearing capacity and settlement, pressure-meter test, plate loading test, soil liquefaction analysis, etc bundled as ...

NovoLiq supports the following field tests for liquefaction assessment: -Standard Penetration Test (SPT) -Becker Density Test (BDT) -Shear Wave Velocity (Vs) Post-liquefaction l ...

NovoCPT is designed for processing CPT files and calculating soil parameters such as friction angle, relative density, unit weight, fines content, shear wave velocity, Gmax, clay s ...

VisLog is a powerful software designed for visualizing geotechnical and geological borehole logs by automatically drawing soil profiles. More than 30 soil types are supported and i ...

Geotechnical engineers can use this software for day-to-day analysis and calculations. NovoFORMULA is used for estimation of soil properties based on other soil properties (example ...