Snap2img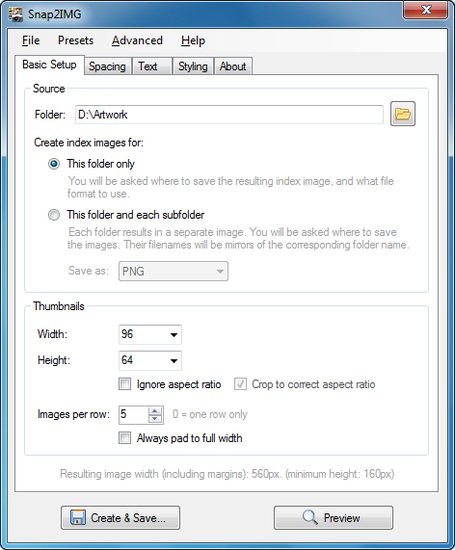 Download URL | Author URL | Software URL
Snap2IMG generates contact sheets (also known as thumbnail sheets or image index) for folders on your hard drive. The result is a larger image containing thumnails showing all the images in the folder. It can process a single folder or a complete folder structure, automatically generating a sheet for each subfolder. A large number of options allows you to style the sheets to your own liking.

Features:

* Process a single folder or all subfolders
* Filenames automatically reflect the source folder
* Handy preview feature for testing various settings
* Change thumbnail size and aspect ratio
* Show header, footer and filenames, with individual font settings
* Texts can be customized using <tags>
* Set background color and texture image
* Draw solid, dashed or dotted borders around thumbnails
* Change page margins and thumbnail spacing
* Portable
* Freeware

Example Scenarios:

* Index image folders that you don't have readily accessible, for example external harddrives and C
Related software (5)

2JPEG is a reliable batch graphics converter allowing you to convert images to jpeg format from 50 image file types. The program has no windows interface and processes multiple fi ...

Vertically merge one FoxPro table into another. The tables can be located in the same FoxPro database or two different databases. Connect to FoxPro via DBC file or multiple DBF fil ...

JetStart lets you launch Start Menu shortcuts faster and easier then ever. No more digging into crowded Start Menu! And best of all, it's completely free!

Cool Resizer is a perfect tool for resizing (downsizing) photos from digital camera. It is very easy to use and can resize many image at once. Select one of the predefined sizes an ...

Folder2Iso is a portable application that creates an ISO from any folder. The root folder can contain sub-folders. It's a GUI of mkisofs. No installation is needed and it has a ve ...