Sky watch screensaver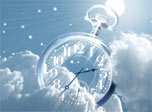 Download URL | Author URL | Software URL
The march of time is unlikely to be heard, until you take a look at the sky! Can you imagine a watch resting high in the clouds? It does exist: take a look at a new screensaver, where soft skylight is pouring in your rooms from the screen!
Related software (5)

Where silver archaic meets modern jeans classic. Time is ticking! Be ready to face exiting challenges the future will bring and do not forget the lessons of the past. But the most ...

A golden clock is ticking time against the sky, filling your life with divine inspiration and joy. Install the screensaver to make your desktop the very heart of the day that'll sh ...

Oriental Clock screensaver takes you to some nice place under the cool mountain pines where you can relax and gaze at the rocks and the bridge. The sun is setting down. There is a ...

Do you want to take a quick trip to open space and be delighted with sparkles of distant stars? This is really simple with our new screensaver which allows you to take a ride on a ...
Water Clock plunges you into the freshness of a late-autumn mountain stream with the misty forest in the background and solid century rocks at the front. A stylish stone clock in t ...