Safeguard pdf document security viewer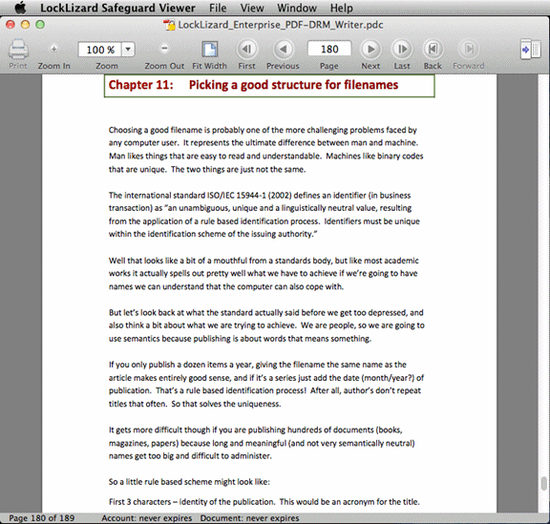 Download URL | Author URL | Software URL
PDF secure Mac viewer software with DRM copy protection control. View PDC documents protected with Safeguard PDF DRM Security or Safeguard Enterprise Rights Management on Mac OSX devices. Safeguard secure PDF reader enforces the PDF DRM controls applied to PDF documents and stops document copying, modifying, printing and screenshots. Documents can be set to expire or be revoked by the document owner. Document views and prints may be logged. Document publishers may enable secure document sharing between devices, or lock PDFs to specific machines and locations. Dynamic watermarks may be applied to discourage document photocopying if printing is allowed.
Document licensing and PDF decryption is transparent - there are no passwords to enter - and is performed on the fly in memory to ensure complete document protection. Safeguard Secure Mac Reader provides total PDF security for OSX devices with copy protection and DRM controls.
Related software (5)

Pdf Split Merge Pages can split pdf files, merges pdf file, extracts pdf pages and extract images from encrypted pdf files. Pages can be split by range, single pages,bookmarks. Mul ...

Axommsoft Pdf encryption software add pdf open password and restrictions password (known as owner password) to restrict pdf printing, text copying, changing, filling, commenting, s ...

Image Converter Plus is the quick and easy way to convert your image files into the formats that you need them to be. This software tool offers a unique blend of features that are ...

PDF security with secure PDF DRM protection. Stop PDF copying, sharing, screen grabbing. Control the number of views and prints and document expiry. No useless PDF password securit ...

The Aloaha PDF Saver allows you to fill in PDF Forms and save them to disk. A OCX Version inclusive sample source code of the PDF Saver is also included. You can also retrieve the ...