Saeaut scada web client 1 cal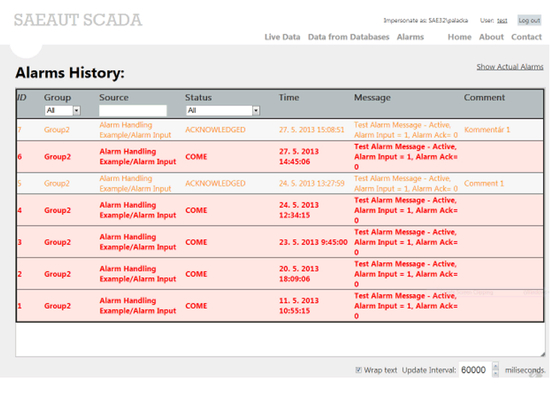 Download URL | Author URL | Software URL | Buy Now ($206)
One additional client access license to the product SAEAUT SCADA using web application SAEAUT SCADA Web Client delivered within SAEAUT SCADA.

Product SAEAUT SCADA is delivered with one client access license. This product adds one another license. If you need more additional client access licenses you can buy more these products.

Client access licenses can be used only with bought product SAEAUT SCADA. Please send computer finger print to the computer for that you have bought the SAEAUT SCADA license to us and we send you link on new installation package of the SAEAUT SCADA with enabled as many user accesses as you bought.

Please do not buy this product if you have not bought SAEAUT SCADA!!!
Related software (5)

Free Windows software for Data Acquisition & Control, HMI / SCADA, Industrial Automation, Process Control, and Data Logging. Read data from sensors, turn on/off electrical equipmen ...

Ciansoft PDFBuilderASP is an ASP component for generating PDF files. Images, graphics and text can be written to the document. Images can be read from a number of popular file fo ...

This is a simple tool for registering ActiveX dlls ond ocx files. It uses a Windows interface so it is quicker and easier than working at the command prompt. It is supplied as both ...

PDFtextCmd - A commandline-exe for your pdf-files... Royalty free! All pdf-specs! Extracts the text-content of pdf-files. As an automated text-export into a generated file and as c ...

Easy to install, flexible, user-friendly and affordable SCADA / HMI with a Web client application for monitoring and control , process automation, visualization, process alarms, ev ...