Remotenetstat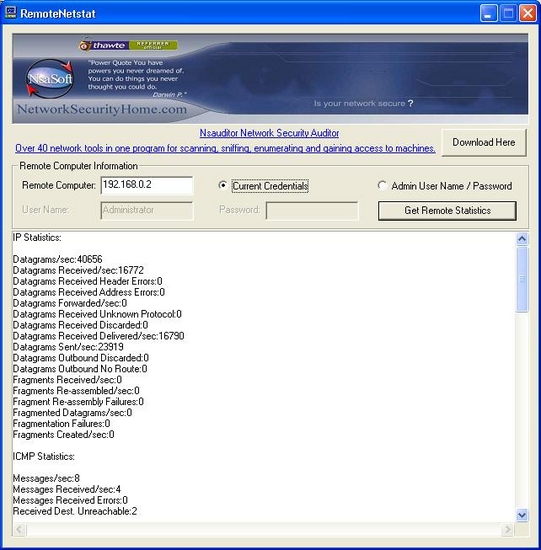 Download URL | Author URL | Software URL
Remote Network Statistics displays remote network computer IP, ICMP, TCP, UDP and Server statistics, shows the details about IP datagrams including forwarding enabled-disabled state , default time to live, the number of received datagrams, datagrams with address, header, protocol errors, forwarded datagrams, incoming datagrams that have been discarded, delivered datagrams , sent datagrams, routing datagrams that have been discarded, datagrams withought routing , interfaces , local host Ip address, TCP segments including timeout algorithm , minimum and maximum timeouts in milliseconds,the number of maximum connections , opened active and passive connections, failed connections, reset connections, currently established connections, received segments, sent segments, retransmitted segments, received errors, segments, which have been sent with reset flag, cumulative connections, details about UDP datagrams the number of received datagrams, datagrams without port, datagrams with erro
Related software (5)

The Network Process Monitor displays information associated with each process running on local or remote computer. You must have administrative privileges on the remote network co ...

Remote Device Explorer displays device information installed on remote network computer and enumerates the members of the specified device information set. You must have administr ...

RemoteServiceMonitor controls the status of your network services and allows to start or stop remotely. You must have administrative privileges on the network computer.

SiteLinkChecker checks Web sites for broken links. It is a free easy-to-use link checker tool to help you maintain the accuracy of links on your web site. The program will help you ...
TerminalServiceAgent allows to enumerate and control network terminal services and processes and allows to terminate or log off remotely. The tool is designed with a user-friendly ...