Red star pinball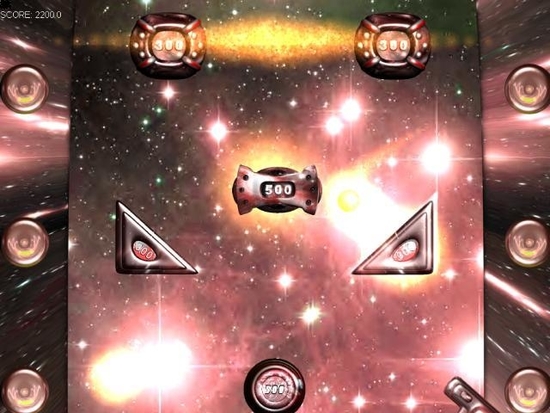 Download URL | Author URL | Software URL | Buy Now ($0)
Pinball is a classic, exciting game, where you must hit the pinball with your two flippers.
In this version there are several innovations, such as dynamic bonuses which temporarily
double the points earned. A special bumper between the flippers, controlled by you, can prevent losing your pinball down the middle! Nice graphics and fiery
special effects add excitement to an old classic!
Pinball is a classic, exciting game, where you must hit the pinball with your two flippers.
In this version there are several innovations, such as dynamic bonuses which temporarily
double the points earned. A special bumper between the flippers, controlled by you, can prevent losing your pinball down the middle! Nice graphics and fiery
special effects add excitement to an old classic!
Pinball is a classic, exciting game, where you must hit the pinball with your two flippers.
In this version there are several innovations, such as dynamic bonuses which temporarily
double the points earned. A special bumper
Related software (5)

Sure to be appreciated by anyone who likes Jigsaw puzzles, this game features four difficulty levels, the ability for pieces to be rotated (or not), awesome visual effects and soun ...

Your mission is to protect your tank and the base from the enemy tanks by destroying all enemy tanks. Player starts the game with 3 lives. If the base or the player's tank is destr ...

You play Jake sentient robots. As a result of the failure, Jake found himself smarter robots and others wanted to know how to be free. Help him escape from the factory robots and f ...

Make your way through the crowd of the walking dead on the way to kill King Leoric. On the way you will meet a lot of different powerful monsters and a variety of levels.

Zombie apocalypse has arrived! Perhaps you are the only survivor! Kill all the zombies and become the king of the world! Do not let the zombies deprive you of things to do.