Powcost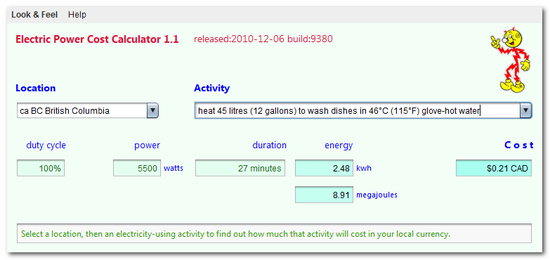 Download URL | Author URL | Software URL | Buy Now ($0)
PowCost calculates how much electricity and how much that electricity costs for various simple tasks like boiling water for coffee, or heating up a meat pie in the microwave or conventional oven.This information lets you save money and put less stress on the environment.

It uses built in tables of electricity cost in various regions in its calculations. It displays the results in your local currency. The raw information comes from many sources all over the Internet.

The exchange rate tables built in to the program are updated daily, so you should download a fresh version of PowCost from time to time to see accurate prices for different regions of the world in your home currency.
Related software (5)

Dicom is the first ever unit aware calculator of its kind that deals with dimensions of physical quantities in mathematical expression. Dicom enables calculations, conversions, and ...

If you make client estimates, estimate amounts of items or go through complex "what if?" scenarios then EstimatesPlease is the calculator for you. Just enter what you know, be it a ...

EzCalc Pro just may be the most feature rich scientific calculator you have ever seen! Mind boggling capabilities with Integrated Spreadsheet and 3D Plotter!

Chmod calculator for php,perl and cgi scripts. Although many Perl, PHP and other CGI scripts are available as a free download, they need to be installed to your website before they ...

Green b2b online invoicing calculator for enviromental benefits. Free calculator to help save the enviroment one business at a time.