Placeforgames: tactical soccer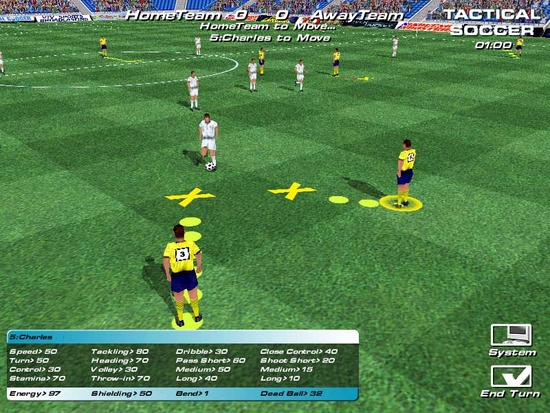 Download URL | Author URL | Software URL | Buy Now ($5.99)
Currently virtually all Soccer games can be classified under two gaming styles: the first person arcade style action game or the Football Manager game. Tactical Soccer gives you a third choice. Tactical Soccer is an exciting new turn-based simulation of the soccer match.
You control all 11 players at the same time. So instead of shouting at your left back to 'get forward' you control him and can build up an attack exactly how you want. You are the coach and have real control of the team.

Features: Turn-based Strategy Soccer Sim focusing on the match. Single exhibition match knock-out cup or a league tournament. Coaches can shape the abilities of their players. Success is firmly in the hands of the Coach. Handicap system. Includes: fouls, offside, penalties, substitutions and different formations. Play against either computer Coach or another human Coach playing on the same machine. Set in a full 3D world.
Related software (5)

A highly addictive and exciting horse racing simulation, Race Day gives you the chance to spend a day at the track. Try your luck and see how much you can win!

SeasonPlanner is an amazing tool to organize and motivate sports teams. Build team rosters, schedules, and articles. SeasonPlanner has a wealth of reporting capabilities and build ...

Sudoku-Ball(R) is a new Sudoku concept. The challenge is to solve a Samurai 3D Sudoku network with 14 sudokus on a spherical object such that the entire network is closed in all di ...

An exciting, fun-packed 3D greyhound racing game that captures all the action of a great night at the track, and more! Buy your dogs, train them, maybe risk a bet or two, then race ...

With the help of advanced algorithms based on neural networks this revolutionary software will predict greyhounds racing results with great accuracy! If you want to make a living a ...