Piano chords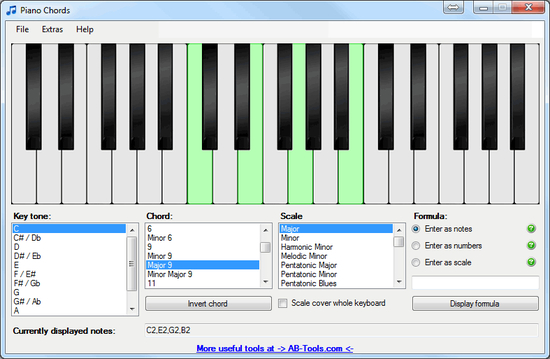 Download URL | Author URL | Software URL
You wonder how to play a particular chord on the piano or how a particular scale looks like?

With the program Piano Chords you can see many different chords and scales on a virtual piano keyboard. Thereby any key tone can be chosen, of course.

Features of Piano Chords at a glance:
- Display of notes on a virtual piano keyboard.
- All popular chords and scales included.
- Invertation of chords possible.
- Different input options for displaying notes on the virtual piano keyboard.
- Integrated help system.
- Automatic program updates.
- Multilingual (at the moment English, German and Spanish).
- Intuitive program interface.
- Free e-mail support in case of problems or questions.
- All updates for free.
Related software (5)

Calculation of a rating scale and notes. Add and manage custom rating scales to make your work easier and faster.

UM Video Process Filter is a powerful transform filter that allows rotate the video in 90, 180, and 270 degrees, keep aspect ratio when rotated the video in 90 and 270 degrees , fl ...
We have developed a program that helps you improve your sight reading of piano or keyboard sheet music. Please visit our website for more detailed information. This is a Demo versi ...

KBPiano will turn your computer into a piano. Easily create song with multiple instruments (guitar, bass, drums, etc), even if you don't know music theory.

Play in tune and showcase your musical talent!