Phantom desktop screen saver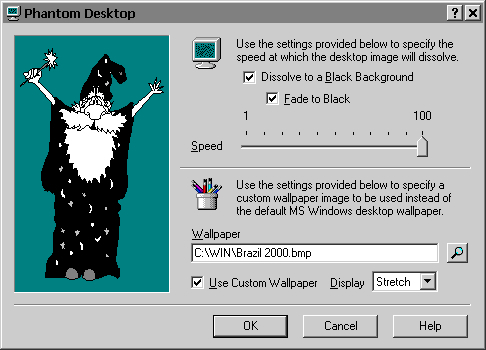 Download URL | Author URL | Software URL
Phantom Desktop Screen Saver, when activated, hides all application windows, desktop icons and the MS Windows taskbar, replacing them with an empty desktop. This empty desktop can be the standard wallpaper image, or a custom bitmap and can also be optionally configured to slowly dissolve to a simple black background. Phantom Desktop works with Windows Vista, 7 and 8 operating systems as well as Windows 2003, XP, Windows 95/ME and NT. Phantom Desktop is free. You may copy and distribute this program as long as all copyright notices remain intact and the application files are not modified in any way.
Related software (5)

7art Snow Clock is a stylish decoration for the coming Christmas. Snow is falling from the sky. Happy Snowman is smiling. Christmas tree is radiating festive moods.

Put a tropical island to your desktop. Sunny green palms, exotic birds, crawling crab and magical shell clock are going to cheer your moods and always tell the exact time.

This clock reminds us of those frenzy days at school. Time run so fast, the whole world of things and emotions lies in front of you to be discovered, every morning is a start of ne ...

Our magic fishes could fulfill your wishes and cheer your moods as well. Various fishes are waintng for you in this beatiful slideshow screensaver.
Clocks don't grow on common trees. But what about the magic trees? Sometimes the mirracles happen. We have cultivated the special magical tree with the real clock on its branch. It ...