Perpetuum mobile for pocket pc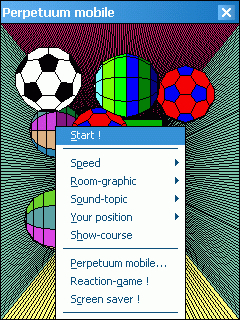 Download URL | Author URL | Software URL | Buy Now ($8.9)
Perpetuum mobile highlights continually moving and rotating balls.

Up to 500 balls can be shown at one time. The ball movement can be selected to follow gravitation rules or be manipulated impulsively. The spectator position can be the screen, the middle of the room, on a ball or on an elevator. Hereby special visual effects come to the validity.

The user can plan diverse attitudes from six dialog sides and save these into a file. The further can be started a small reaction game and a screensaver.

For Windows CE is offered Perpetuum mobile for different processors, that were not tested all by us. Please test Perpetuum mobile with our test-version on your CE-device therefore beforehand.
Related software (5)

Orneta FTP is a FTP Client for Windows Mobile based Smartphone's and Pocket PC's. By transferring files of any size to and from any remote FTP server in the background, your time i ...

Orneta Go is the classic game of Go for your Windows Mobile based Smartphone. The game of Go was originally created in China between 3,000 and 4,000 years ago. Go is the oldest gam ...

Pro Motion is a bitmap editor and animation package, ideal for creating pixel precise animations, images or icons used in games, Flash/GIF applications especially for handheld syst ...

The reproduction rules can be free selected likewise the incremental width and output time of the generations. Color-palettes can be produced on your own. With a shape-run, new ru ...

Perpetuum mobile highlights continually moving and rotating balls. Up to 500 balls jump in an area around. The ball movement can take place with gravity and impulsively. Hereby spe ...