Password generator 2.0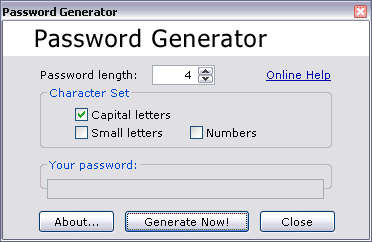 Download URL | Author URL | Software URL | Buy Now ($19.95)
Password Generator is a software program to generate random passwords containing a varied set of characters, including lowercase and uppercase letters as well as numerals. You will never have to think of another random password again. Save the password to a .txt file and you are good to go! Password Generator creates passwords that are very difficult to crack or guess due to an optional combination of lower and upper case letters and numbers. If you use Windows, Password Generator was designed for your PC. The program was extensively tested on Windows XP, 2000, 2003 Server, NT, 95, 98 and ME machines to ensure its complete compatibility. Password Generator is very easy to use!
Related software (5)

EasyFP is a program which prevent your important files not be deleted unexpectedly. By monitoring all of file operations on encrypted files, EasyFP make sure all of encrypted file ...

Password Generator is a software program that generates random passwords. The program supports Windows 95, 98, 2000, XP, NT, Me. If you constantly have to think of new passwords, i ...

Standard encryption security on pdf documents prevents users to edit (modify) or print document. Pdf password remover allows users to remove pdf user (open) password & owner protec ...

east-tec SafeBit 2 features military strength on-the-fly AES encryption, by creating virtual drives, where you can hide files and folders, keep them encrypted all them time, but st ...

With KeyLord you can keep your passwords, credit card and bank account numbers, and other sensitive information in a tree-like structure, secured with passwords or X.509 certificat ...