Multiplayer go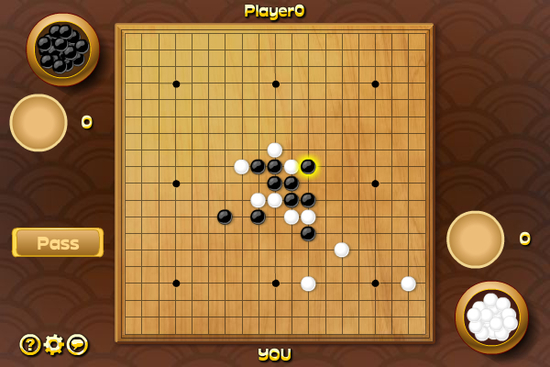 Download URL | Author URL | Software URL | Buy Now ($0)
Come and challenge one of the most complicated board games in history! In the game of Go a board which consists of 19x19 intersections will be used, while you and your opponent will be assigned a set of black or white pieces. Your score will be calculated by the total area surrounded by your pieces, as well as the number of opponent pieces captured. Black will move first in the game, and the players will take turns to place pieces onto the empty intersections on the board. During your turn, simply click an empty spot on the board to place your piece. Note that you must finish your turn within the given time limit, as indicated by the timer on the screen, or you will lose.

The 4 empty intersections which are immediately adjacent to a piece on the board are called "qi". If opponent pieces have started to enclose a group of pieces, the "qi" becomes an "eye", and the group needs to have at least 2 eyes to stay alive and avoid being captured. If the number of eyes falls below 2, the group
Related software (5)

Challenge your mind and luck in this famous board game!

Make use of wise strategies in this challenging board game!

Let's recall the great pleasure of this memorable board game!

Challenge your mind in this popular game from Eastern Europe.

Make use of the doublets to escort your pieces out of the board!