Mp3 galaxy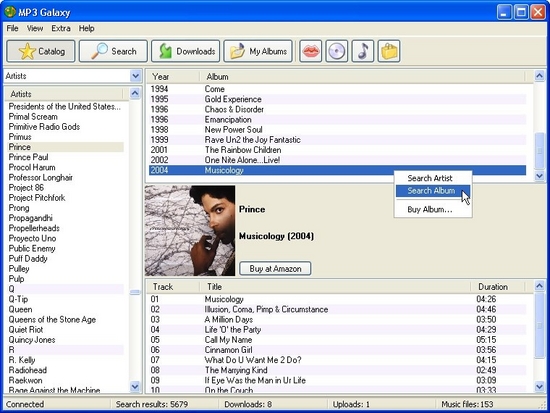 Download URL | Author URL | Software URL
Search and download music by your favorite artists with this state-of-the art P2P program. MP3 Galaxy combines the power of file sharing with an easy to navigate music catalog. With MP3 Galaxy you can discover a whole new world of music with thousands of the best songs in the popular MP3 format. All albums come with cover and detailed track information. With one click you can start searching for an artist, an album or one or more tracks. MP3 Galaxy shares with the major P2P networks including LimeWire, Morpheus and BearShare. Some key features: thousands of artists and albums, more than 200,000 songs, more search results than Kazaa, fast and reliable downloads.
Related software (5)

Enjoy your MP3 files with automatic album cover and lyric retrieval. Essential MP3 Player adds a new dimension to your music experience by automatically downloading album covers an ...

Simple MP3 Tag Editor is an easy to use MP3 tag editor. The software supports ID3V1and ID3V2 tags, drag and drop interface and is capable of editing song title, album and artist n ...

Smart MP3 Renamer is designed to rename and tag mp3 albums. It retrieves the album details from the Freedb.org website or the Amazon.com Web Services and automatically renames and ...

Twister is a free program to find and download MP3 and other music files on the internet. Twister uses the top search engines available today. Twister is compatible with the major ...

RUBY P2P Outbreak helps download various filetypes such as music, videos and pictures.The outstanding feature of RUBY P2P Outbreak is the ability to connect to and search 4 major P ...