Midiyodi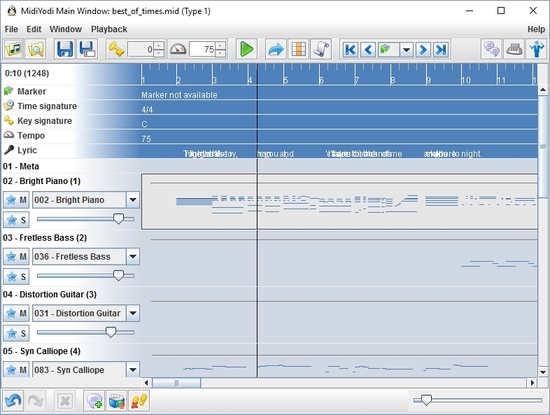 Download URL | Author URL | Software URL | Buy Now ($14.95)
MidiYodi is an application that allows editing, examination, playback and conversion of MIDI files.

MidiYodi is available on all major platforms including Windows, Mac and Unix.

MidiYodi provides various tools to examine the layout and content of a MIDI file:
- MIDI File Explorer scans entire folders for MIDI files and displays detailed information such as filetype, duration, number of tracks, etc.
- Main Window displays rolled-out contents of a MIDI file including a measure bar and all its tracks. Each track displays its instrument and miniature notes. In addition meta lanes displays lyrics, markers, tempos, time- and key signatures.
- Keyboard Examiner allows note editing for a track in a keyboard like viewer.
- Score Examiner displays notes for a track in a score like viewer.
- Event Examiner displays all events for a track including position (beat, time and tick), category (meta, voice or system), type (note on/off, program change etc.) and value.

MidiYodi offers a rich set of
Related software (5)

A new program, effective and easy in use for anyone! The best in MIDI to WAV Renderer is an ability to render files avoiding any foreign sounds, as it converts files without playin ...

WAVE to MIDI, MP3 to MIDI, CD to MID : Recorded music can be converted into score! Music Recognition System Pro is designed to automate transcribing of music.

MidiYodi is an application that allows editing, examination, playback and conversion of MIDI files. MidiYodi is available on all major platforms including Windows, Mac and Unix.

An Audio/MIDI sequencer with VST support available in a free beta test version

MIDIPlayer is a free MIDI file player with detailed file information display including individual track details.