Macromenu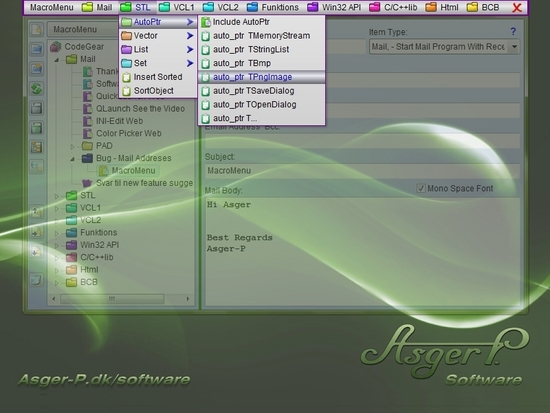 Download URL | Author URL | Software URL | Buy Now ($15)
MacroMenu Is a must have tool for anybody that work with text manipulation, programming, or is in the business of helping people by mail or on forums. MacroMenu's user interface is build as a menu system that can be customized in many different ways, setting colours, font and size. The graphic user interface is blazing fast and have full keyboard support, this combined with the fact that it's a menu gives you easy access to all your stored macros and clip items. There is even a full text incremental search, making it very easy to find what you are looking for, even when you forgot where you put it, a couple of letters and a few milliseconds, then you have it. You can share menus or just branches of menus with your friends and co-workers, so that it is easier to maintain a consistent style in your work. When you install the MacroMenu you get 6 different programs all merged into one: ClipStore: Store plain text clips of any kind, that can be programming code, links, law paragraphs, h
Related software (5)

Make changes to the data found within an Oracle table.

A powerful, language generic IDE. Features include Brief, Epsilon, Emacs support, project workspace file management, intellisensing, auto-completion, class browsing, code folding, ...

The Program is designed to accelerate access to your folders and files by placing bookmarks directly to the standard Open-Save Dialogs.

Keystroke surveillance program silently transfers generated log report files at user desired email account using FTP server. Computer monitoring software takes active screenshot of ...

Automate simple and complex repetitive tasks. Record and send keys, text and clicks. Automate web pages, run and manage files, add toolbars to any window. Hotkeys and other trigger ...