Lock screen changer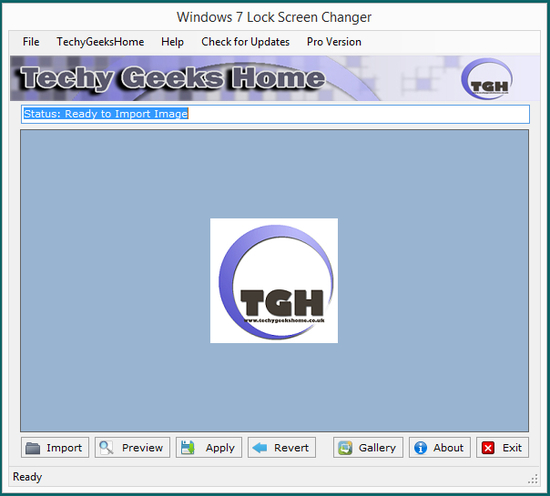 Download URL | Author URL | Software URL
This small standalone utility is designed to change your Windows 7 lock screen easily and quickly to a custom image of your own choosing.

With this utility, you can import your own custom JPG image into the tool, preview the image to ensure you have chosen the correct one that you want to use and then apply it to be your new Windows Lock Screen.

So, what is your Windows lock screen?

Your Windows lock screen is the image you get when you need to enter your password to login to Windows 7 or when you press ALT-CTRL-DEL and lock your machine.

the image is the usual boring Microsoft blue image with some leafs on it! So, you want to change this to your own image or maybe simply add your company logo to the existing one, either way, with our new utility this is simple.
Related software (5)

Ever wished you had several screens on your computer? Active Virtual Desktop is a virtual desktop manager which will create up to 9 virtual desktops allowing you to have different ...

Animated Desktop is a unique program that allows you to put animated themes, based on Flash animations, Active X components and HTML pages onto your Windows desktop. The software ...

In just 3 clicks put any picture on your Windows desktop background wallpaper without making people look fat. Super easy to use. DeskPhoto's Best-Fit technology copies, auto-crops, ...

An ideal desktop replacement for those who need to prevent Windows or users from rearranging the desktop, for those who wish to create their own simpler desktop interface, and for ...
PaperPlane Smart Launch is a free launcher program aka. shortcut manager which gives you an iPad-like desktop to quickly access your most used apps, open a recent file, visit a web ...