Linkz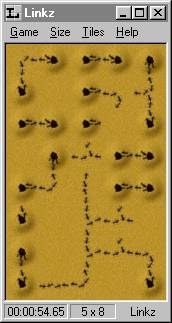 Download URL | Author URL | Software URL | Buy Now ($0)
The main objective of Linkz is to connect all the open ends of the pipes, electronic circuits, roads or whatever tiles you may be using together so they form continuos shapes. And all this takes place in the form as a race against time.

A simple enough task you might think. Granted, a 5 x 5 map is not very difficult to complete (try and top my 6 seconds!) but the bigger the maps get the more complex the shapes will be and you should be busy quite some time solving a 50 x 50 map.

For those who don't want to have the game take this long there is also the option to choose any size between 5 x 5 and 50 x 50 and there are also some default sizes to choose from so you can compete with your friends.

You will have access to a range of 10 different sets of tiles with some very strange and interresting alternatives, the smart person will learn how to use the characteristics of every set of tiles to his own advantage as Linkz will allow you to swap tiles during the game.

Besides having these
Related software (5)

Match colors while connecting shapes in this beautiful and challenging puzzle game. Drifting through space with the stars as your backdrop, you must advance through increasingly di ...

Escape is a tile-based puzzle game in the style of "Adventures of Lolo" or "Chip's Challenge." Unlike either of those games, Escape doesn't rely at all on reflexes--it's all about ...

This fast-paced, complex word puzzler tests your visual and dexterity skills in a graphically exciting arcade environment while pushing your vocabulary & word building skills to th ...

A fun and unique Tetris game with 8 puzzle pieces. All the standard ones are included and even some different designed ones. Each level the game will speed up and throw you a lar ...

Mihov Link Checker is a simple program that is used to verify links on a list, a local page or on a web page directly from the internet. It checks whether the linked files are mi ...