In-step blue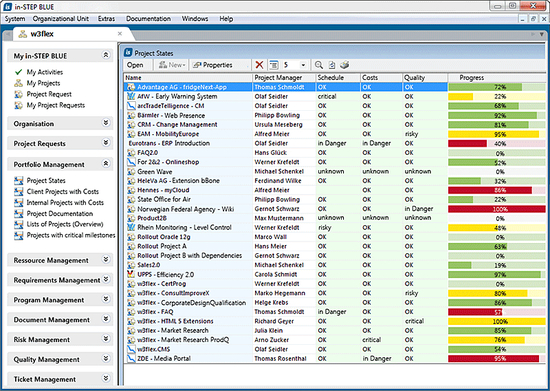 Download URL | Author URL | Software URL | Buy Now ($1035)
Very often, project content varies while the underlying business processes do not. The project management software in-STEP BLUE supports teams with by providing powerful business processes, customizable workflows and templates, with included versioning of docments, requirements, changes stc. The individual design of a business process is dependet on the environment you are working in, be it aviation, the railway industry, automotive, medical technology, IT software development or product development for embedded systems. Which business processes you are using and which departments, roles and operations you are supporting is entirely up to you. Use a company-wide, individual process for project management, use standrds such as V-Modell XT, PRINCE2 Agile, Scrum or SPICE for Automotive or simply create your own workflow for your project documentation. Plan your projects with the project management software in-STEP BLUE and reach your goals.
Projects and portfolios, teams and organizations
Related software (5)

Planiqa from www.planning-labs.eu is advanced software for project management. It combines flow schemes and planning time schemes (GANTT charts). It enables project cost estimates, ...

Centralized team Task Management, Release Planning and Collaboration platform for Software Development teams, with support for Agile, Scrum, Kanban and more. Track time, manage iss ...

Innovative Project Management software that simplifies planning for project managers and facilitates execution for team members.

Very often, project content varies while the underlying business processes do not. The project management software in-STEP BLUE supports teams with by providing powerful business p ...

Sprintometer main features: Scrum and XP (Extreme Programming) projects tracking; Unique 3D Burn-down; Export to Microsoft Excel for charts/reports; Modern and user friendly interf ...