Imgv64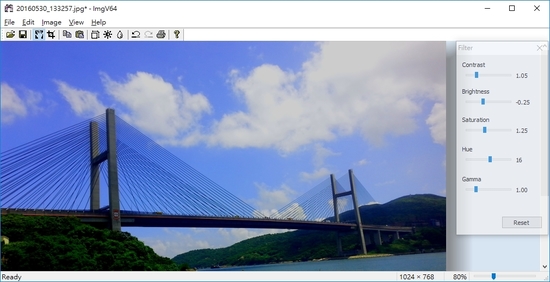 Download URL | Author URL | Software URL
ImgV64 is a Windows Vista/Win7/Win8/Win10 graphics viewer for GIF, JPG, PNG and other formats. It is designed for those who want a solid, easy viewer but who still want powerful features, without the complexity of a complete paint or thumbnailing program.
ImgV64 has many powerful features available, but they won't get in your way if you just want to use it as a simple viewer.
Among the features: You can load an image from a folder and then 'slide show' through the rest of the images in the folder using the keyboard left and right arrow keys.
This works in window or full screen modes.
Free of any malware, spyware, and viruses. It is a 100% clean and safe tool for you to use.
You can add text to an image with the text tool. This is quite versatile, with font, size and color selection, transparent, and 90/180/270 degree rotation of image available.

As you can see above, many tools, including Undo/Redo, are available on the toolbar. If you want more screen space, you can hide the toolbar
Related software (5)

Full-featured batch image, graphics, and photo editing and converter software for 140+ formats (JPG, JPEG2000, PDF, etc). Complete command-line operation and an entire arsenal of e ...

Cool Paint Materials contains a vast picture gallery which is designed exclusively for Cool Paint, a painting software for drawing and image editing. It provides users with more re ...

Recover lost or deleted digital pictures from all types of media. With D-Photo Recovery, you can salvage digital pictures and RAW files from formatted or corrupted memory cards, ha ...

Miraplacid Publisher converts any printable documents to images (TIFF, JPEG, TGA, BMP, PNG, GIF). All the documents printed to this "printer" will be converted to images, saved, em ...
Convert multiple images, photos, and pictures between 30+ formats: JPG, PNG, GIF, TIFF, BMP, JP2, J2K, TGA, PSD, RAW, DDS, PNM, WMF, ICO, SGI, HDR, LBM, MNG, XBM, XPM, PCD, PCX, PI ...