Idaho-web-counter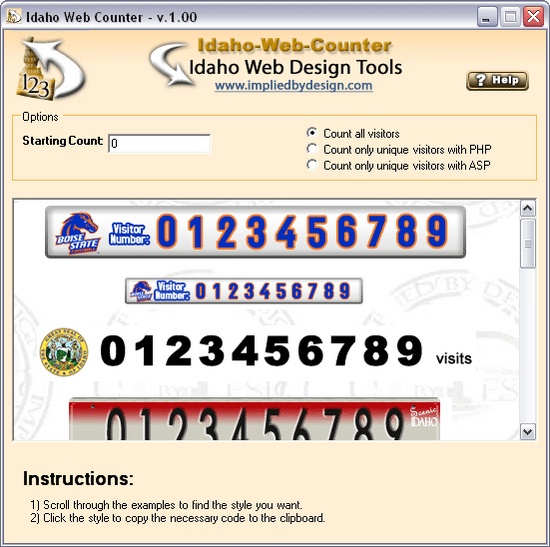 Download URL | Author URL | Software URL | Buy Now ($0)
Idaho-Web-Counter is a small and simple way to add cool counters to your web site. Just click on the counter style you want and the program will copy the code you need to your clipboard. Paste the code into your web page and you're done!

Idaho-Web-Counter allows you to count the number of times a page was viewed, or if you have access to a server-side scripting language like PHP or ASP you can count just unique visitors. You can even set the starting number for the counter if you're moving over from another counter service.

The best thing about the Idaho-Web-Counter is that it's completely free and anonymous! The program doesn't solicit any information from you, and doesn't require you to create an account to use. Use as many counters as you want, there's no limit!

It's called the "Idaho" web counter because there are number of Idaho-inspired counter themes, from potatoes to Idaho license plates. But if location-based themes aren't your cup of tea, there are a number of other st
Related software (5)

Idaho-Web-Counter is a small and simple way to add cool counters to your web site. Just click on the counter style you want and the program will copy the code you need to your clip ...

Namu6 is a fast way to create, maintain, and publish a website. Create a small business, photo journal, student or personal website with Namu6. One click publishing, picture effect ...

Web Design Toolbar has links to Facebook, Twitter, and a search bar

Xara Web Designer is an easy to use template based web page creation tool that gives you total page design freedom, no HTML or JavaScript skills required.

WYSIWYG application that allows the user to create 3D outstanding buttons for use with web sites and stand alone applications requiring a more effective look. Easy creation of butt ...