Hq audio player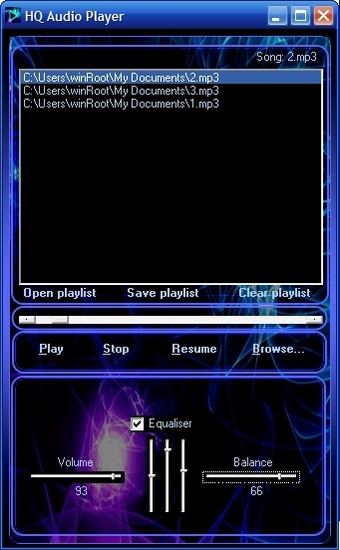 Download URL | Author URL | Software URL | Buy Now ($0)
HQ Audio Player-An audio player for your PC.
The program has a pleasant, intuitive interface that allows for quick navigation.
Supports popular music formats such as MP3 and WAV. Runs on all versions of Windows.

Key Features:
* Built-in equalizer
* Playlists
* Beautiful design
* Easy and friendly interface

HQ Audio Player-An audio player for your PC.
The program has a pleasant, intuitive interface that allows for quick navigation.
Supports popular music formats such as MP3 and WAV. Runs on all versions of Windows.

Key Features:
* Built-in equalizer
* Playlists
* Beautiful design
* Easy and friendly interface

HQ Audio Player-An audio player for your PC.
The program has a pleasant, intuitive interface that allows for quick navigation.
Supports popular music formats such as MP3 and WAV. Runs on all versions of Windows.

Key Features:
* Built-in equalizer
* Playlists
* Beautiful design
* Easy and friendly interface


HQ Audio Player-An audio player for your PC.
The program
Related software (5)

Escape is a tile-based puzzle game in the style of "Adventures of Lolo" or "Chip's Challenge." Unlike either of those games, Escape doesn't rely at all on reflexes--it's all about ...

PDF Multitool (FREEWARE) includes set of functions to extract data and text from PDF files: PDF To XML, PDF To CSV, PDF To Text, reading text from scanned PDF using OCR, search tex ...

This functional virtual piano allows you to use your keys as a keyboard, with the keys being customizable. After starting you can immediately start playing. Grand Piano 2 is an exc ...

Small puzzle game with neat graphics and pleasant music. On the game field exist 49 numbered spheres. Locate specific spheres based on the number displayed in the bottom right corn ...

A group of young rockers from a hick town is set for its first "big" performance in the glorious city of "Reno." They have to make their way through the ominous state of Nevada, w ...