Hold image viewer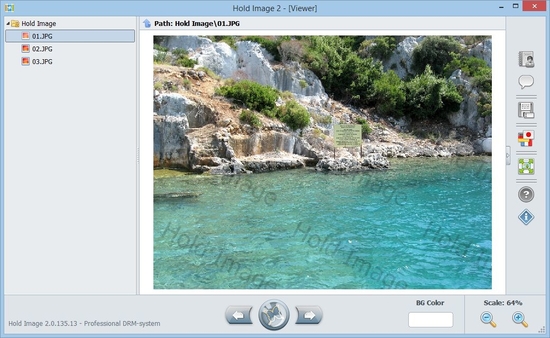 Download URL | Author URL | Software URL
Hold Image 2 - [Viewer] is a part of the Hold Image 2 DRM system.

Hold Image 2 - [Viewer] is a program for viewing projects created in Hold Image 2 - [Editor] program.

Hold Image 2 - [Viewer] is a container with its own file system to store data.

The program is based on a multi-tier system for protection against copying and other unauthorized operations.

Hold Image 2 - [Viewer] is a unique product for protecting copyrights in the information space.

This program is primarily designed for the individuals willing to protect their intellectual property against theft in the global Internet. The system equipped with a range of optional capabilities creates vast opportunities for carrying out activities in photography, design and architecture.

We shall consider the image protection techniques provided by the Hold Image 2 system:

image packing in the executable file (EXE) or the Hold Image Viewer file (HIV);
image encryption;
watermark application on the image;
service
Related software (5)

Listen to all 30,000+ webradio stations of the world. Find stations by name, genre, country, and artists. Record YouTube, Yahoo, Myspace, Facebook, Clipfish, Myvideo videos and con ...

Hold Image 2 is a professional DRM (Digital rights management) system for image copy protection.

Protect Flash, PDF, Powerpoint, Excel, EXE, E-Book, Video, Audio, Images and other file types. Content Protection / DRM / Time limited versions / Software Copy Protection / Ne ...

Easy Adobe PDF conversion and PDF/A archiving from any application. Use PDF Impress Tools to view, print, merge, split, extract, insert, remove, rotate pages, add attachments, wate ...

Find, resize, crop, watermark, enhance, adjust, convert, rename, and process your pictures and photos in 30+ image formats with 120+ filters and effects using this graphics softwar ...