Helpinator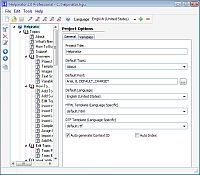 Download URL | Author URL | Software URL
Time is money. If you are a software developer or micro-ISV your time is your greatest value. Thus you need development tools that save your time and money. Large help authoring suits are expensive and contain lots of features that you will never use. Helpinator is inexpensive and is packed with a set of features that you need every day. Above that you receive some unique essential features not available in other help authoring packages.

1. Produce CHM, PDF, RTF and Website from single source.
2. Built-in template engine allows defining different templates for different types of documentation.
3. Store images at one place, not spread across all topics. Use one image in several topics. Change image at one place to update multiple topics.
4. Use text includes to store blocks of text that appear in the same form in several topics.
5. Full set of editing features - insert tables, images, flash movies and etc.
Related software (5)
Helptrix is a help authoring system for creating professional help and manuals in several formats from a single source. Publish your manuals as PDF, HTML Help or as HTML with a sin ...

TranslateUs automatically extracts the textual content of any file on a mobile device or SD card, identifes the language(s) it is written in, and translates it into a user-specifie ...

VSdocman is a Visual Studio tool for commenting and the automatic generation of class documentation from your C# and VB .NET source code files. It automatically creates MSDN-like d ...

Magic Calendar Maker is a very easy-to-use utility for creating and printing calendars for one month. The user only has to select the month and year for which he or she wants the c ...

RGB Editor is a small utility useful for selecting and creating RGB colors for graphics projects. The values of the red, green and blue components are displayed and easily transfer ...