Grim mansion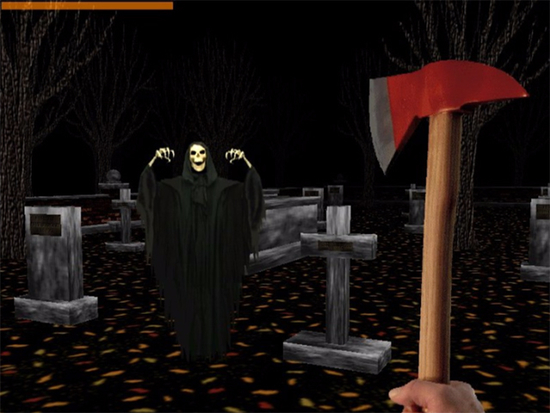 Download URL | Author URL | Software URL | Buy Now ($0)
You're Elwood Shank, a dealer in rare antiquities and have spent years searching for the fabled Mortependium. They say this book can bring unlimited wealth and power to whoever possesses it. They also say the book is cursed! You've heard Judas Grim has found the last remaining copy, so you are off to pay him a little visit. And you don't plan on leaving empty handed...
You're Elwood Shank, a dealer in rare antiquities and have spent years searching for the fabled Mortependium. They say this book can bring unlimited wealth and power to whoever possesses it. They also say the book is cursed! You've heard Judas Grim has found the last remaining copy, so you are off to pay him a little visit. And you don't plan on leaving empty handed...
You're Elwood Shank, a dealer in rare antiquities and have spent years searching for the fabled Mortependium. They say this book can bring unlimited wealth and power to whoever possesses it. They also say the book is cursed! You've heard Judas Grim has fou
Related software (5)

You roll out of bed excited for your morning tea and pastry. You sit down to enjoy it and....Yikes, a cockroach is trying to steal your breakfast! Oh no, there are more of them! T ...

In the lair of the dragon ice grows unusual tree, whose fruit ripens in winter. The fruit of this tree is very curative - any illness disappeared in one day. Also, these miracle fr ...

A little old man is trying to save his innocent planet from being taken over by a villain named Gnumanikus, and to catch him in the process. Help him in this difficult endeavor. Yo ...

In ancient times, one warrior protected with armor was equal to ten ordinary soldiers. Steel armor and a long sword could transform an ordinary man into a hero. And this fantastic ...

Description: Welcome to the Arena! In this game, your goal is to kill as many enemies and survive! At your disposal: rifles, shotguns, pistols and sniper rifle! Explore the area to ...