Greedy bot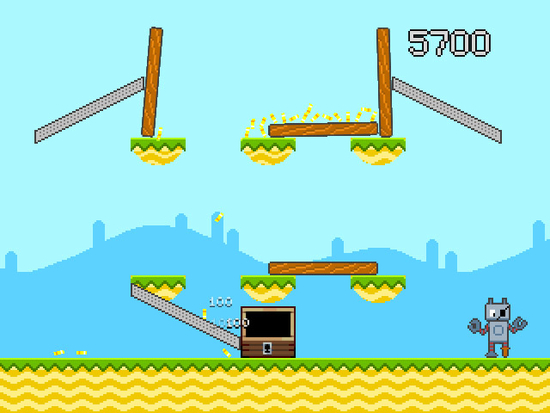 Download URL | Author URL | Software URL | Buy Now ($0)
Bob the robot loves treasure. But Bob is not just any robot. He's a robot-pirate. He's not interested in sea adventures, battles, or distant shores. All he wants is treasure. But Bob needs your help. He's not very bright, and while gold is great, it doesn't help him get smarter. This is why he needs you! Help Bob fill his treasure chest with gold coins. Solve puzzles and use a variety of items and tricks to bring all of the gold you find to Bob. Vivid graphics, exciting levels, and a sea of gold are waiting for you!
Bob the robot loves treasure. But Bob is not just any robot. He's a robot-pirate. He's not interested in sea adventures, battles, or distant shores. All he wants is treasure. But Bob needs your help. He's not very bright, and while gold is great, it doesn't help him get smarter. This is why he needs you! Help Bob fill his treasure chest with gold coins. Solve puzzles and use a variety of items and tricks to bring all of the gold you find to Bob. Vivid graphics, exciting lev
Related software (5)

Heavy Truck Parking is a new and exciting game that will test your driving and parking skills! Offering a unique driving experience with excellent 3D graphics is what it's all abou ...

Ghost Town is filled with crowds of hungry zombies. You need to collect provisions, scattered in different places. Patrons at first sight, enough, but it's not for long ... Will yo ...

Uncle Frost is a platformer in oldshcool style with Game Boy Advance graphics style and dynamic gameplay. Your mission is to defeat an army of evil toys and giant robots.

2D Platformer - shooter with a generation level, 4 kinds of weapons, enemies and scoring system.

He castle and its inhabitants were attacked by the witch with dark black power. Save their castle playing on the principles of Arkanoid. Take whatever help you can get. Good luck!