Freelang dictionary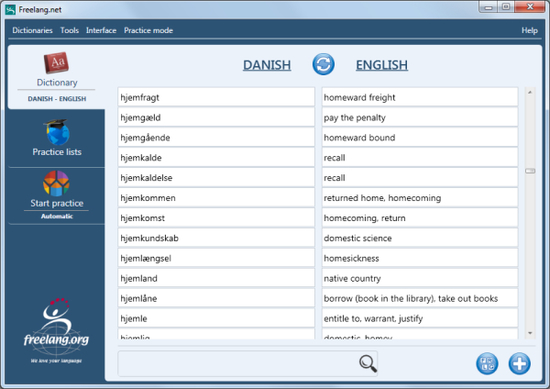 Download URL | Author URL | Software URL | Buy Now ($0)
The Freelang Dictionary is an offline dictionary software. You download the program once, then you can add as many wordlists as you wish. Basically a wordlist is made of two columns, one language in each: Spanish-English, German-French, and so on. We have most of the main languages spoken, as well as many regional languages, and rare or endangered languages. You can easily switch from one language to another, or switch between several dictionaries. Hundreds of wordlists are available on our websites to download for free, mostly from/to English, from/to French and from/to Spanish. Once you have installed a wordlist, you can either browse it, or look up a word by typing its first letters. The lists are stored on your PC (or phone), so you don't need an Internet connection. You can also add words to the lists, delete some entries, modify existing entries, or create your own wordlists from scratch. If you created a new dictionary or if you updated an existing one, make sure you use the 'To
Related software (5)

@promt Professional 8.0 Translator delivers fast, high-quality translation of documents, emails, web sites and more for business. English to/from French, German, Russian, Portugues ...

@promt Personal 8.0 Translator (English Multilingual) is the quick and easy translation program for personal use. It can translate multilingual texts, web pages, ICQ messages.

@promt Office 8.0 Translator gives home and small offices a simple, powerful way to work with multilingual business and technical documents, presentations, web pages, ICQ instant m ...

@promt Expert 8.0 Translator is designed for professional translators and translation agencies. English to/from French, German, Russian, Portuguese, Spanish and English to Italian ...

Download the Freelang Dictionary and browse hundreds of bilingual wordlists for free, mostly from/to English, French and Spanish. Add, delete or edit entries, or create your own wo ...