Flatgraph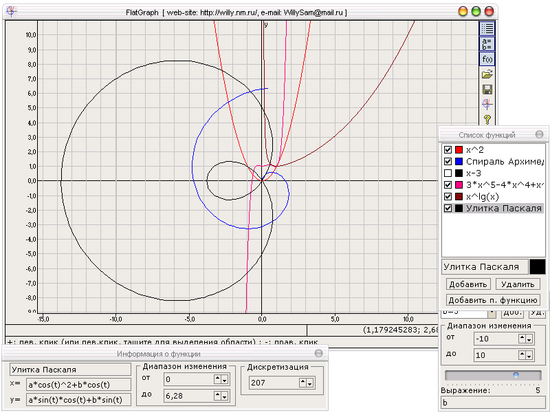 Download URL | Author URL | Software URL
Plotting functions (usual and parametric) with more possibilities.
Differentiation of any order (with simplification). Construction of tangents to the graph. The simple and clear interface with the detailed documentation and examples of work.

The program is designed both for inexperienced and the professional user as in it are combined the intuitive interface and professional functions.

FlatGraph allows:

- To enter one or several functional expressions of any complexity for display and (or) their differentiation;
- To carry out symbolical differentiation for the specified order of a derivative, and also to carry out simplification of the received derivative;
- To investigate "alive" changing of various parameters of functions with simultaneous display of new graphs that allows to define influence of parameters of functions on their form;
- To use automatic or manual scaling schedules of functions for linear scales;
- To display parametric functions, for example, ellisoid, cardi
Related software (5)

DeadLine solves equations graphically and numerically. The freeware finds the real roots of an equation, evaluates functions and the first two derivatives extremely fast and accura ...

Google Adwords Research Software by Wall Mounted Aquarium. Cut your Adwords Research Time in Half. This Software Analyzes your Niche Competition Quicker & Easier than Google Adwor ...

ActiveX control to draw 2D pie charts, bar charts and line graphs. Display the graphs, export to file (GIF, PNG, BMP) or data stream or copy to the clipboard. Properties allow full ...

This software utility can plot regular or parametric functions, in Cartesian or polar coordinate systems, and is capable to evaluate the roots, minimum and maximum points as well a ...

The GraphInquire ActiveX provides a Microsoft Chart element with special functionality to inquire the exact form of a series by zoom in, zoom out and scrolling and to display sever ...