Flash renamer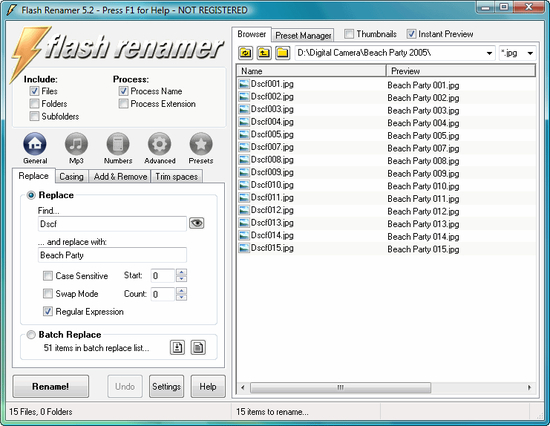 Download URL | Author URL | Software URL | Buy Now ($19.95)
Flash Renamer renames many files at once by applying rules such as case convert, sequential numbering & seach/replace. It's a time saver for people with large amount of files, eg digital camera users, webmasters & mp3 collectors.

Features:

• Fast as lightning! Renames thousands of files in a matter of seconds.
• Set casing to UPPER CASE, lower case or Title Case.
• Rename music files using their tags and properties.
• Build in music tagger (mp3, ogg, wma, mp4, flac, mpc, & more).
• Read data from jpeg Exif tags. Excellent for digital camera users!
• Search and replace strings within filenames. Wildcard & RegExp support.
• Set or clear file attributes, such as 'read only' and 'hidden'.
• Set date & time using various sources, such as image Exif date.
• Add or Remove strings from specified positions.
• Add counters to files that are related, such as photo sessions.
• Change existing numbers, eg by adding or subtracting.
• Extract meta-data
Related software (5)

Make changes to the data found within an Oracle table.

Smart MP3 Renamer is designed to rename and tag mp3 albums. It retrieves the album details from the Freedb.org website or the Amazon.com Web Services and automatically renames and ...

Students, conference attendees, lawyers, and anyone who has to transcribe recorded audio should try Listen N Write, a free tool designed specifically for transcription.
AutoRun SlideShow allows you to create self-contained slide show autorun CDs for friends and family. There is no need to install SlideShow before running. Supports JPEG, GIF, BMP, ...

Replace, insert, delete, copy, move, format, extract, convert, encode, encrypt text and bytes in multiple files. Process 1000s files using multiple CPU cores in manual, automatic, ...