File checksum utility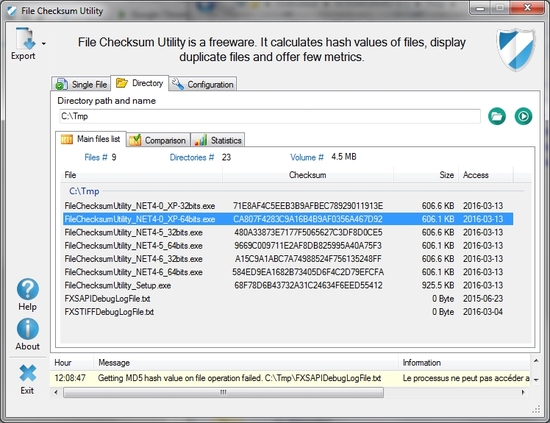 Download URL | Author URL | Software URL | Buy Now ($0)
File Checksum Utility software allows to generate MD (Message Digest) and SHA (Secure Hash Algorithm) hashes from a single file or files in a directory. Checksum result is a calculated value from the content of file by special algorithm.

Duplicated files are highlighted, but also bigger and oldest. All analyzed files generate graph overview of volume and extension.

You can also verify the file integrity of the downloaded document or program. File Checksum Tool is very easy to use. From the graphical user interface, choose the file from your computer storage. The tool calculate and display checksum values.
You can copy the results to the clipboard and export it to a CSV, XML or TEXT file. The main supported algorithms include MD5 (Message Digest number 5), SHA-1 (Secure Hash Algorithm level 1), SHA-256, SHA-512 and RIPEMD.

File Checksum Utility is a free of charge software (Freeware) that is available for use at no monetary cost. It is fully functional for an unlimited time. You can
Related software (5)

Horizontally merge two FoxPro tables into one by a common column (field) of data. The two tables are not changed, a new table is created with the results. MS Access 2000 or higher ...

HashX is a powerful yet very easy to use application designed for computes hash value(checksum) for any single file, it allows you to verify that downloaded files are not corrupted ...

Create valid checksum and hash for File and export XML

Free MD5 SHA1 Verifier is a freeware tool designed to calculate and verify checksums (hash) of downloaded files. Supports MD5, SHA-1, HAVAL, MD2, SHA-256, SHA-384, SHA-512.

The complete hard disk space manager for Windows. Scans directory trees and stores structure and size in a SQL database. Report of space usage, growth and more in tabular views, ba ...