Feedfetcher yahoo! widget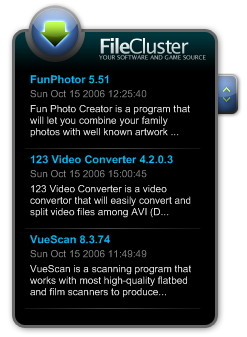 Download URL | Author URL | Software URL | Buy Now ($0)
FileCluster Widget keep your updated with the lastest software and game releases.You can be updated in real-time directly from your dekstop with the newest downloads and news.Also,you can specify any RSS feed URL and this widget will immiediatelly grab feeds from that location.The feeds are sorted,showing the latest updates first.You can keep this widget active at all times on your dekstop and recieve updates at a given time.

This widget is very easy to use,just install it and recieve your updates.You can also configre it by selecting your default fetching URL and refreshing interval.
Installing this widget,you will need the Yahoo! Widget engine installed on your system.
Related software (5)

Synchronize clock on your Desktop PC or Notebook, using time server available on TCP/IP networks such as the Internet or LAN. It can work as client or server. The protocol currentl ...

FileCluster search plugin for Firefox allows you to search FileCluster's daily updated software database from within your Firefox browser. The results of your search are sorted by ...

software,scripts,downloads,uploads,pad,s hareware,demo,freeware,free

Take the first steps to more harmonious Love and Sex with Pocket KamaSutra by Intorine!Our plasticine character are concurrently funny,charming,sexy and much more like real people. ...

Split your images into smaller segments, including percentage splitting or pixel splitting.