Fcorp - id book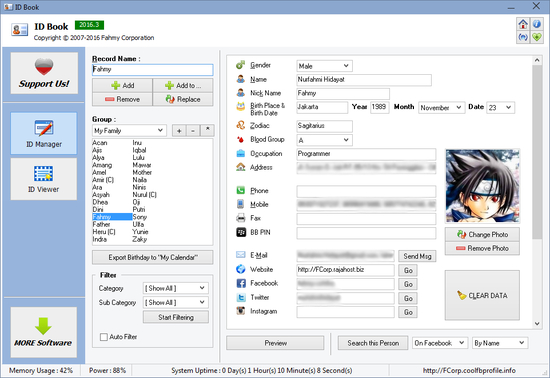 Download URL | Author URL | Software URL
With the Internet opening up new and improved communication methods with individuals from all over the world, there's a high chance you lose track of people you want or need to interact with. A simple and efficient way is to create a contacts list, with applications like 'ID Book' being a suitable environment, fitted with fields for various ways and services to contact your acquaintances.

With a modern and polished interface, the application gets you up and running in a jiffy. You can either create or view contacts, features which are stored in separate tabs so that you're not overwhelmed by requirement fields, options and buttons.

The creation process is pretty easy and intuitive. Requirement fields are not mandatory so you can fill in only the details you're sure about. In this regard, the application puts a decent variety of options at your disposal. Ranging from gender and other basic personal details, you can dive deeper and even specify zodiac, blood group, hobbies, favorite be
Related software (5)

This program will Make you easier to Launch your Favorite File/Folder.

Reduce the number of Icons on your Desktop and Make your own Application Suite.

A simple, yet efficient application that can help you search the meaning of a name, as well as randomly generate names in a simple manner

Search through more than 15,000 Acronyms/Abbreviations from Many Countries.
DOS Application Utility with GUI Interface.