Fcorp - file & folder tools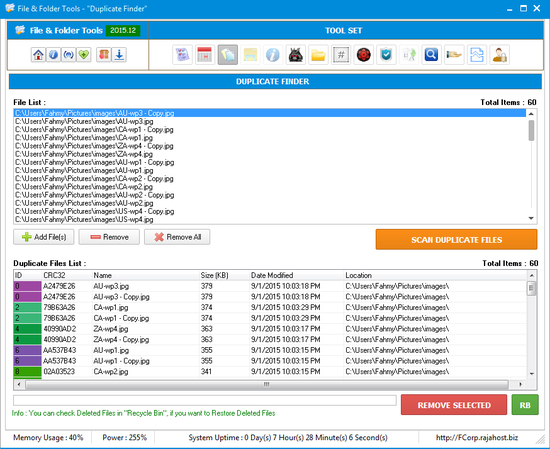 Download URL | Author URL | Software URL
File & Folder Tools is a reliable and easy to use file manager that enables you to organize, sort or search for files/folders on your computer. The software is lightweight and works as a folder explorer, that also allows you to modify files' attributes or change their creation date. Thus you may easily arrange and organize important files.

File & Folder Tools allows you to modify File & Folder datetime. It can also allow you to modify File & Folder Attributes (System, Read-Only, Hidden or Archive).

You may change the existing attributes or add new ones. Moreover, date and time information may also be modified. Thus, if a file was created with the wrong time stamp, you may easily correct it, by inserting the proper date and time. The software enables you to select the desired files for each operation individually.

File & Folder Tools offers you several options for customizing files and folders, generating hashes or searching for items on your computer. Additionally, you may replace
Related software (5)

Imagine that your hard disk crashed. How much work you will lose? This convenient backup files program helps you to keep all you need. It makes a mirror of your important informati ...
Find content differences between two specified text files. Differences are highlighted in red.

Randomize Card, Coin, DateTime, Dice, Number, Word & List (You can also use this Program as Your Drawing Assistant).

ACDR (Audio Compact Disc Reader) is a very easy to use, yet fully featured tool, that lets you read tracks from audio CD's. Supports: Lots of output file formats, freedb, ReplayGai ...
Manage your hard drive and other storage devices.