Family tree builder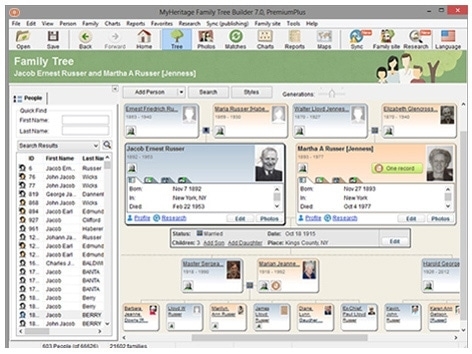 Download URL | Author URL | Software URL | Buy Now ($0)
Used by millions of people worldwide, Family Tree Builder helps you research your family history, build your family tree and add photos, historical records and more.
Powerful Family Tree Software - Build a family tree visually, add thousands of people quickly. Supports over 40 languages.
Smart Matches Technology - Matches your tree to millions of others & discovers new relatives, automatically!
Beautiful Charts - Create, customize and print beautiful charts and reports, even all-in-one charts.
Record Matching Technology - Automatically discovers historical records of your ancestors.
Private Family Site - Share your family history on your very own secure family site.
Detailed Privacy Settings - Control every aspect of your privacy online and offline.
Fun to Use - Easily import your GEDCOM file and continue building your tree.
Maps - Discover where your ancestors came from, enhance your family tree.
Sync with Mobile - Update your family tree on the go with our free mobile apps.
...and so
Related software (5)

Gaia Family Tree - A simple interface that allows you to build your family tree with a few clicks - no need to be an expert in computers or genealogy! It's fun and it's free!

Used by millions of people worldwide, Family Tree Builder helps you research your family history, build your family tree and add photos, historical records and more.

Excellent genealogy program for storing all your family tree information. See your family tree laid out on the screen and access the data directly. Features user-defined fields, We ...

Produces high quality family tree drop-line charts from existing data stored in Kith and Kin Pro V3 or other GEDCOM-capable genealogy programs. Once imported you can rearrange your ...

Family history program allowing you to store text and media for people. Store attributes for each person as well as multiple media. GEDCOM Import. Charts such as Ancestor, Descenda ...