Expos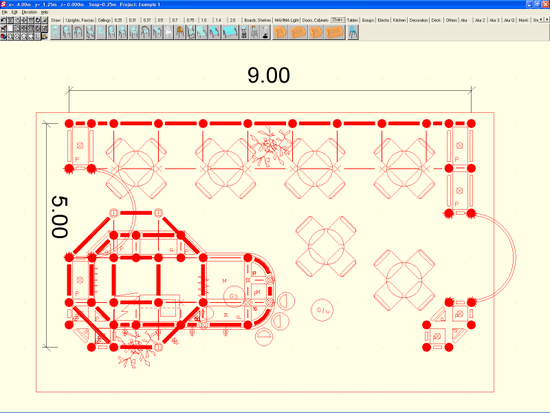 Download URL | Author URL | Software URL | Buy Now ($600)
Expos is 2D and 3D CAD modelling software for exhibition stand design.
It uses Octanorm items first, but there are also libraries of furniture, stairways, electro, plants and other items included.
Designing is fast, because the designer creates the ground plan of the stand and Expos generates the 3D visualization from it.
It is possible to design the booth (display) from an arbitrary combination of systems (Octanorm, Maxima, Orbital, Alur, Struktur, Monti, SYMA Orbit, Subtil) and any user defined objects. Final projects for given fair (exhibition, show) are usually supplemented with logos, pictures and surfaces.
Expos is specialized for exhibits so the work is comfortable for stand designer.
Expos also generates list of used items including price and weight automatically.
Related software (5)

RenderGold allows to create very beautiful gold ornaments that look like jewelry. You can create 3D wallpaper and seamless backgrounds, 3D knots and rosettes, 3D buttons, bullets, ...

InnoPlanner represents the alternative to the desktop kitchen and the bath design software that are out there on the market today, that are costing thousands of dollars to purchase ...

Visual Designer is an advanced GPU & CPU photorealistic renderer, with a unique set of features to handle all the aspects of your creation. It will save a significant amount of tim ...

A structural steel design reference, estimating, and AutoCAD drafting tool for steel construction. You can view shape properties, estimate steel and coatings, Draw steel details in ...

If what you need is an easy-to-use instrument for starting your own web-based 3D interior design software, with which you can engage into an interactive relationship with your pote ...